Nicoll Back for 2022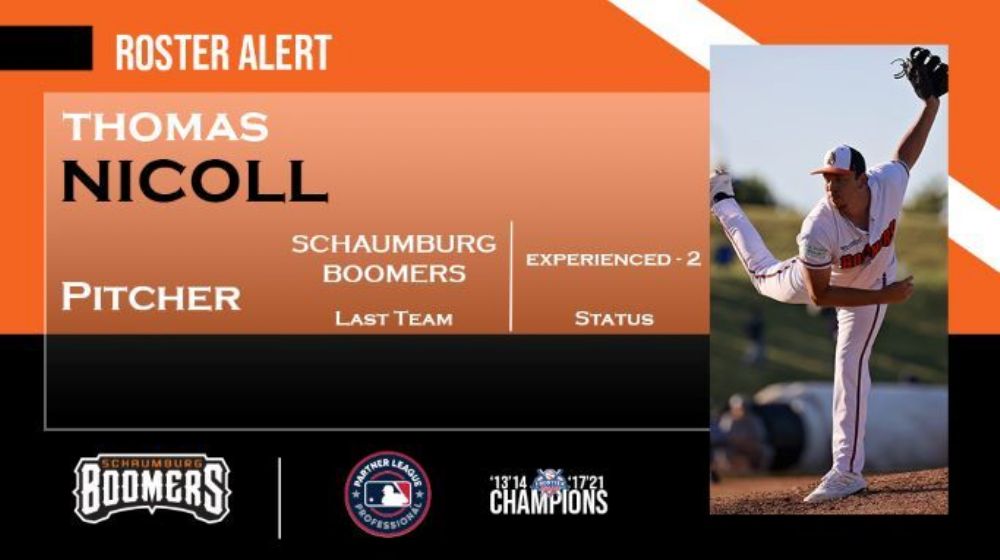 Schaumburg, IL - The Schaumburg Boomers have re-signed late-inning reliever Thomas Nicoll. The reliever will be back for his 3rd season with the Boomers. Nicoll appeared in 34 games and innings (37IP). In those 37 innings pitched, Nicoll struck out 55 batters and an ERA of 2.19 while finishing with seven saves.
Nicoll was acquired by the Boomers mid-season in a 2019 trade with the Gateway Grizzlies and returned to be a dominant late-inning reliever for the 2021 Frontier League Champion Boomers. Nicoll put up a 0.865 WHIP with 13.4 K/9 while allowing only 1.9 BB/9.
"We are very excited to have Thomas back with us in 2022. He is a great guy and teammate. He has proven to be one of the better relievers in the league. The outs he gets us late in the ball game are very valuable," said Manager Jamie Bennett.
Nicoll attended Florida A&M University, located in Tallahassee, FL. He played for two years on the Rattlers baseball team after transferring from Tallahassee Community College. After his 2018 college season, he signed his first professional contract to play for the Normal CornBelters, who were a part of the Frontier League at the time.
The Boomers return home to Wintrust Field in the spring looking to defend their 2021 Frontier League Championship.
Season ticket packages and group hospitality offerings for the 2022 season can be reserved by call (847) 461-3695 or emailing [email protected]