Quintero and Boomers Blank Traverse City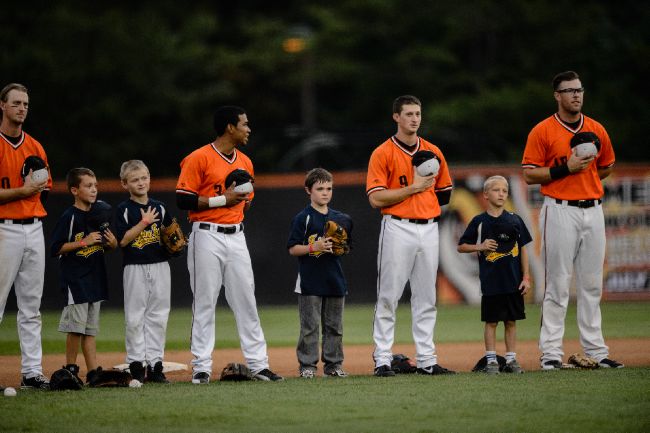 TRAVERSE CITY, MI — Newcomer Brandon Quintero twirled five shutout innings as the Schaumburg Boomers, presented by Wintrust Community Banks, blanked the Traverse City Beach Bums 5-0 to win a series on the road Sunday night.
Quintero allowed three hits in the first inning, but David Harris threw out a runner at the plate to keep the game scoreless. Kyle Ruchim handed Schaumburg a 2-0 lead with a two-out, two-run single in the top of the second. The Boomers added two more in the sixth on back-to-back run scoring doubles from Josh Gardiner and Tanner Rahier. The final run crossed in the eighth on an RBI single from Rahier.
Quintero walked one and struck out three while scattering five hits to win in his debut. Derek DeYoung, Kyle Westwood and Jake Joyce combined to finish the third shutout of the season for the team, and the second against Traverse City. Ruchim and Rahier each finished with two hits and two RBIs as the Boomers tallied 12 as a team. Harris and Seth Spivey also posted a pair of hits. Spivey has reached base in 30 consecutive games, setting a franchise record. The streak is the third longest in the league this season. Spivey owns a 14-game hitting streak.
The Boomers (36-17), who continue to lead the East Division with the best record in the league, will return home on Tuesday night to meet the leaders of the West Division, the Florence Freedom. All-Star LHP Lars Liguori (4-2, 3.59) will make his first post-All-Star start against RHP Jordan Kraus (7-3, 2.99) in the 6:30 p.m. contest. Make the Boomers part of your plans this season by calling (847) 461-FOWL (3695). Hear all of the game action this season on AM 1410 WRMN with the voice of the Boomers, Tim Calderwood.