Boomers Advance To Third Frontier League Championship Series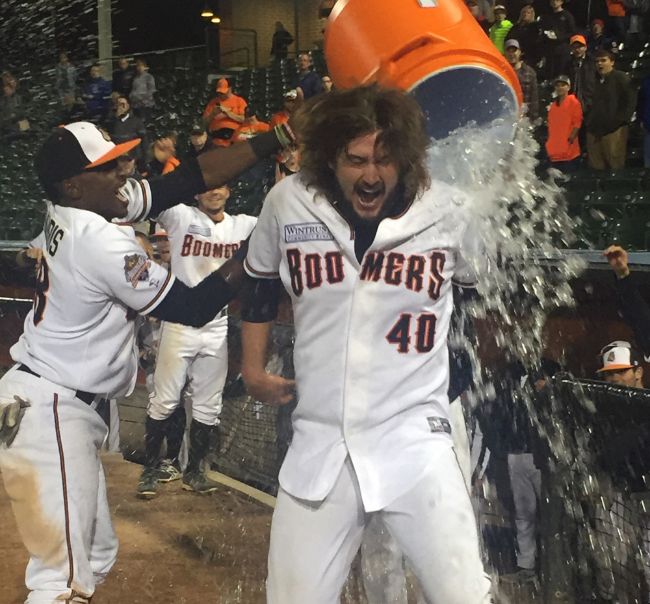 SCHAUMBURG, IL —Behind a dominant pitching performance, the East Division champion Schaumburg Boomers, presented by Wintrust Community Banks, closed out the Evansville Otters on Saturday night with a 3-1 victory at home to capture the best-of-five series 3-1 and reach the Frontier League Championship Series for the third time in team history.
Evansville grabbed a 1-0 lead with a two-out run in the top of the second against Schaumburg starter Joe Hauser on an RBI double from Zach Welz. Hauser settled in, allowing nothing the rest of the game. The Texan retired the next 19 batters to come to the plate and twirled a complete game.
Schaumburg tied the game in the bottom of the second. Zack Weigel led off the inning with a walk, stole second and moved to third on a throwing error. Sean Godfrey found a hole on the left side of the infield to single home the tying run.
The Boomers scored twice in the third to grab the advantage. James Keller worked a walk to cap an 11-pitch at bat. Jack Parenty dropped down a bunt single and Kyle Ruchim stroked a single up the box to hand the Boomers the lead. With the bases loaded, Weigel extended the lead with a groundout to plate Parenty.
Hauser struck out a career best 10, earning the win in his first career playoff start. The righty allowed just five hits, including a single to begin the ninth that ended the string of retired hitters. The offense finished with nine hits and stranded eight. David Harris, the Frontier League MVP, notched three hits. Godfrey also added three. The Schaumburg pitching staff limited Evansville to just 22 hits in the four contests. The Boomers came from behind in two of the three victories.
The Boomers (66-30, 3-1), who finished the season with the best record in the league, setting a franchise record for wins, will open the Frontier League Championship Series at home on Tuesday night against the Florence Freedom. Tickets are on sale now, don't miss the chance to be part of a history making season. Make the Boomers part of your plans this season by calling (847) 461-FOWL (3695). Hear all of the game action this season on AM 1410 WRMN.