Boomers Bounce Back to Barrage Belters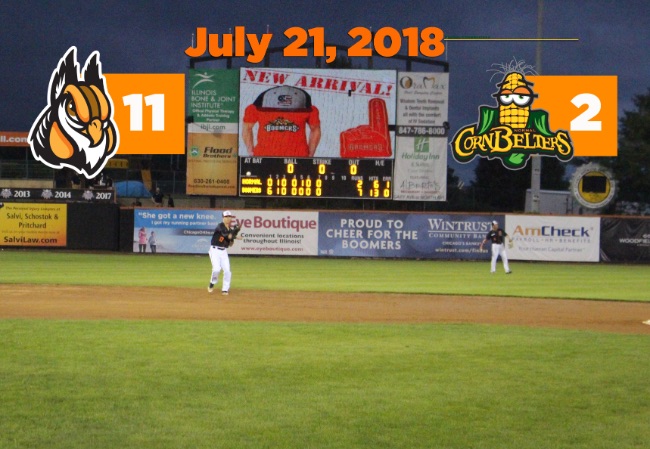 SCHAUMBURG, IL — The defending Frontier League champion Schaumburg Boomers, presented by Wintrust Community Banks, put together seven consecutive singles in the first inning to score six runs en route to an 11-2 win over the Normal CornBelters on Saturday night.
With two outs, Zack Weigel led off the barrage with a single and Ty Moore followed to place runners at first and second. Collin Ferguson drove home the first run and newcomer Darrell Miller, Jr. made it 2-0. Nick Oddo sent a liner to the right side to extend the margin to 3-0 and Michael Hartnagel capped the inning with a two-run single as the Boomers sent 10 to the plate in the inning. Schaumburg added a single run in the second and four in the ninth to account for the final.
Starter Gunnar Kines enjoyed the early support, working seven innings to win his fourth straight decision. Kines allowed two runs on six hits with two walks and three strikeouts. James Mulry and Jake Joyce finished out the decision. Schaumburg bashed 16 hits in the victory. Moore finished with three hits as all nine members of the lineup collected a hit. Weigel drove home three while Towns, Ferguson and Hartnagel all knocked in a pair.
The Boomers (31-27) conclude the series on Sunday afternoon with a 1:00 p.m. affair in the rubber match. The first 1,500 fans through the gates will receive a Boomers Trucker Hat. All-Star RHP Payton Lobdell (3-4, 2.28) takes the mound for Schaumburg against RHP Mark Hendricks (0-1, 2.78). Make the Boomers part of your plans this summer by calling (847) 461-3695.