Kines Tosses Complete Game as Boomers Open Long Homestand with Win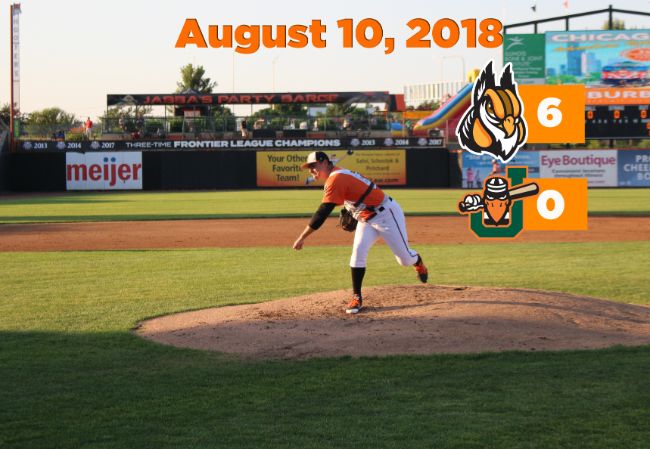 SCHAUMBURG, IL — The defending Frontier League champion Schaumburg Boomers, presented by Wintrust Community Banks, rode the arm of Gunnar Kines to a 6-0 shutout win over the co-leaders of the East, the Joliet Slammers, in the opener of a nine-game homestand before a season high 7,070 on Star Wars Night.
Kines tossed his first career shutout and his third complete game, all with the Boomers. The lefty threw over 130 pitches while striking out 10 to notch his third career double-digit strikeout game. Schaumburg provided Kines with all the support he would need early before pulling away late. Jack Parenty led off the game with a walk as the Boomers loaded the bases with no outs in the first. Parenty scored on a double play and crossed again in the third on a wild pitch after tripling to make the score 2-0. Zack Weigel scored on a Kenny Towns fielder's choice in the sixth and Sean Godfrey came across on a while pitch. Weigel drove home runs in the seventh and eighth to account for the final.
Weigel tallied two hits and two RBIs and reached base three times. The third-year Boomer matched Seth Spivey for the longest on-base streak in team history by extending his streak to 30 games. Nick Oddo added two hits while Parenty scored twice. Schaumburg finished with nine hits, three for extra bases. The Boomers have been involved in three consecutive shutouts, two for and one against. The complete game shutout marked the second of the year for the Boomers. Payton Lobdell blanked Southern Illinois on July 17 by an identical 6-0 score.
The Boomers (38-38) continue to battle in a crowded playoff race in the Frontier League in the final three weeks of the year. Schaumburg continues a nine-game homestand tomorrow night with the middle game against Joliet on Blues Brothers Night featuring postgame fireworks. RHP Payton Lobdell (4-6, 2.97) takes the ball in the 6:00 p.m. contest against RHP Corey Kimber (5-5, 2.32). Make the Boomers part of your plans this summer before it is gone by calling (847) 461-3695.