Boomers Steal Late Victory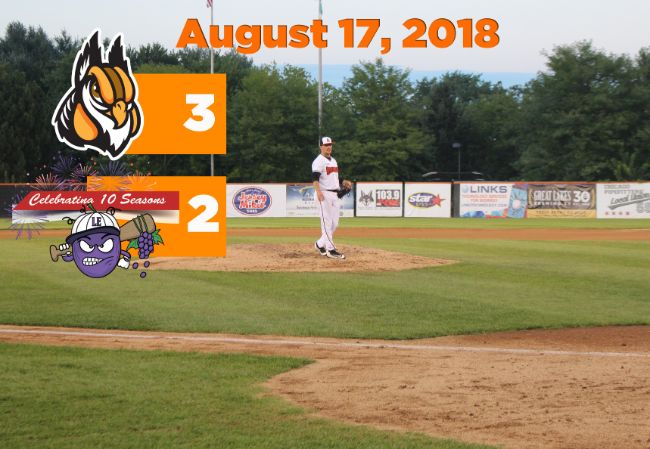 SCHAUMBURG, IL — The defending Frontier League champion Schaumburg Boomers, presented by Wintrust Community Banks, scored three runs with two outs in the bottom of the eighth inning to steal a 3-2 win over the Lake Erie Crushers in the opener of a weekend series on Friday night.
The starting pitchers for both teams were dealing through the contest. Lake Erie scored a pair of runs in the top of the third, stringing together three consecutive hits against Schaumburg starter Quinn DiPasquale. DiPasquale settled down, retiring eight in a row at one point and only allowing one hit the remainder of the outing. Jake Repavich retired the first seven batters of the game and the sat down 12 straight after allowing two hits in the third. Jack Parenty ignited a two-out rally in the eighth by stroking a two-strike double to left. Sean Godfrey followed by cracking his sixth homer of the year, a liner over the wall in left, to tie the game. Kenny Towns drove in the winning run by coaxing a four-pitch bases loaded walk.
DiPasquale threw a season and career high 6.2 innings, allowing just two runs on five hits with a walk and three strikeouts. Darrell Thompson picked up the win in relief with Jake Joyce notching his 12th save of the season. Both teams finished with six hits. Zack Weigel doubled in the seventh to extend his franchise record on-base streak to 36 games.
The Boomers (41-41) continue the season long nine-game homestand with the second game against Lake Erie on Saturday night at 6:00 p.m. in another key contest in the tight playoff chase. RHP Kit Fowler (1-6, 5.50) starts on short rest opposite RHP Alex Romero (8-6, 3.29) on Back to School Night featuring postgame fireworks. The Boomers have eight home contests remaining this year. Make the Boomers part of your plans this summer before it is gone by calling (847) 461-3695.