Parenty Named as Postseason All-Star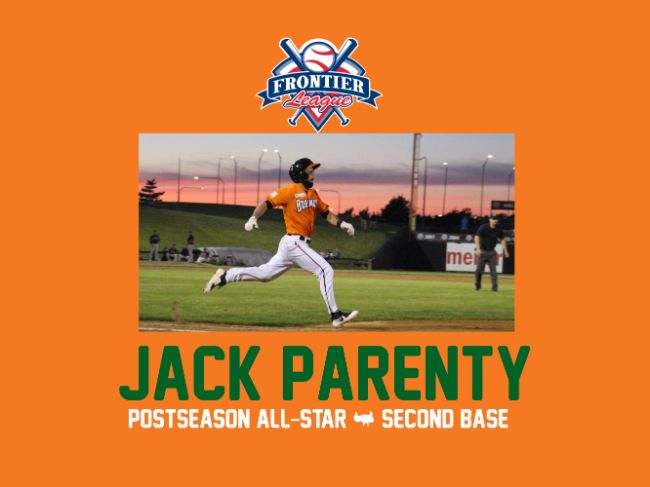 SCHAUMBURG, IL — The defending Frontier League champion Schaumburg Boomers, are pleased to announce that second baseman Jack Parenty has been named a postseason All-Star as announced by the Frontier League this afternoon.
Parenty, in his second season with the team, moved to the leadoff slot on May 31 at Windy City and has been on base in all but nine games since making the switch. The New York native leads the team with 34 multi-hit performances. Parenty currently owns a batting average of .320, sixth in the league and one of the best marks in team history. Parenty owns 25 RBIs to go with nine doubles, two triples and 10 stolen bases while only striking out 32 times in a team high 344 at bats.
Parenty has drawn 55 walks, tied for fifth in the league. The 55 walks also rank fourth in single season history. Parenty posted a 23-game on base streak earlier this season and is currently in the midst of an eight-game hitting streak. Parenty was also a mid-season All-Star, making the start at second base for the rookie team. Parenty is the fourth player in franchise history to earn a postseason All-Star nod. David Harris was a postseason selection last year.
The Boomers (44-48) play at home for the final time this season tonight at 6:30 p.m. on Fan Appreciation Night featuring postgame fireworks. Don't miss out on the final home night of the season. Make the Boomers part of your plans by calling (847) 461-3695.