Boomers Walk-Off to Series Win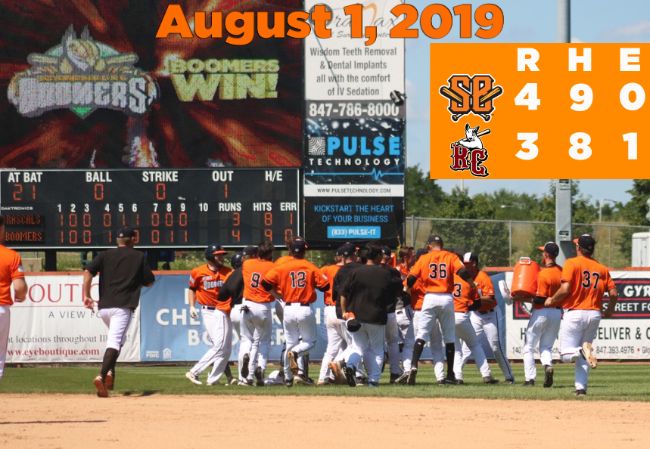 SCHAUMBURG, IL — The Schaumburg Boomers, presented by Wintrust Community Banks, scored in the eighth and ninth, rallying to take three-of-four from the River City Rascals by a 4-3 score thanks to a walk-off double from Dylan Jones in the bottom of the ninth.
River City jumped ahead in the top of the first inning on a solo homer from Trevor Achenbach. The Boomers were able to tie the game in the bottom of the inning when Connor Oliver doubled with two outs and scored on a single from Quincy Nieporte. Schaumburg led briefly at 2-1 on an RBI single from Jimmy Galusky in the fourth but River City tallied single runs in the fifth and sixth to hold a 3-2 edge. Matt Rose knocked home the tying run with a bloop to left with two outs in the eighth. Jones recorded the winner after Chase Dawson opened the ninth with a single and moved into scoring position on a sacrifice.
Dylan Stutsman improved to 5-1 on the year with a scoreless inning of relief. Connor Reed worked six innings and allowed three runs in a no-decision. Nieporte was the only member of the lineup to record multiple hits as the Boomers finished with nine. Nieporte amassed nine hits over the four games. Eight members of the lineup tallied hit in the win, which moved the Boomers ahead of River City in the playoff race.
The Boomers (38-31) head to Joliet for the weekend, beginning a three-game set at 7:05 p.m. on Friday night against the Slammers. RHP Payton Lobdell (2-5, 4.05) takes the ball in the opener against RHP Scot Hoffman (4-4, 3.88). The Boomers return home on Tuesday night. Visit boomersbaseball.com for tickets and information or call 847-461-3695.