Thompson Inks Contract With Brewers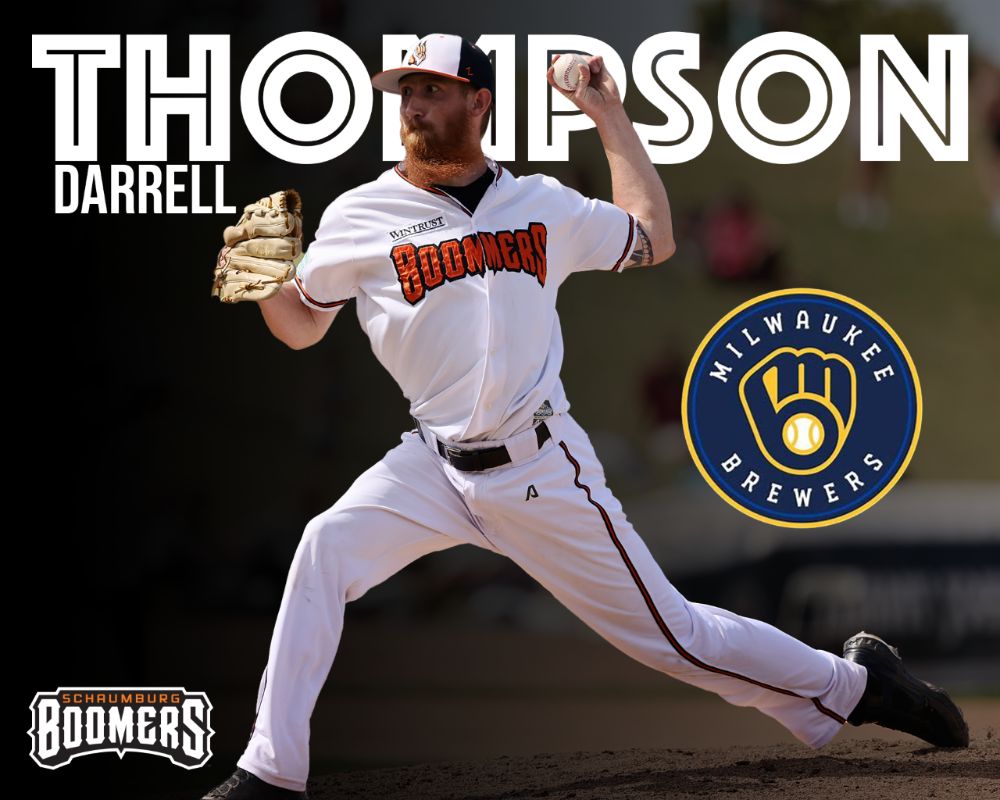 It is with great pleasure that the four-time Frontier League Champion Schaumburg Boomers announce that left-handed pitcher Darrell Thompson has signed a contract with the Milwaukee Brewers.
Thompson, the most successful left-handed reliever in franchise history, will receive his first career opportunity in the affiliated ranks. The Virginia native has been one of the most successful pitchers in the league over the course of his four-year career with the Boomers. Thompson pitched in 45 games this season and struck out 92 batters in 50.1 innings, accumulating 17 saves to go with a miniscule 1.43 ERA. Thompson earned an All-Star selection for the first time in his career and was one of the only pitchers from the West Division to record a scoreless inning in the contest.
The Schaumburg pitching staff set a league record for strikeouts in the 2022 season and Thompson was a big reason why, averaging 16.4 strikeouts per nine innings and posting the ninth highest single season strikeout total in team history. The lefty converted on his final 15 save attempts of the season. The 45 outings were tied for the most in single season team history.
During his Schaumburg tenure, Thompson made more appearances than any other left-hander, taking to the mound 138 times in the black and orange, third most overall in franchise history. Thompson's first career appearance with the Boomers came as a starter before moving to the bullpen eventually working into a hard-throwing late-inning reliever.
Thompson's pro career began in the Pecos League in 2016 and also featured a stint in Gary in 2017 before arriving with the Boomers in 2017. Thompson pitched 29 times in his first season with the Boomers and made at least 21 appearances in all four years with the club including two of more than 40. Throughout the six years of his pro career Thompson owns a 22-4 record with a 3.39 ERA to go with 334 strikeouts in 246.2 innings of work.
Thompson helped the Boomers to a pair of playoff appearances including a championship in 2021 and a championship series appearance this year.
Thompson becomes the fourth member of the Boomers to join the Brewers. Reliever Jake Cousins, who pitched for the Boomers in 2019, became the first player from Schaumburg to reach the big leagues when he debuted for the Brewers in 2021. Cousins was on the opening day roster for the Brewers in 2022 before suffering an injury that cost him most of the year. Former pitcher and pitching coach Connor Reed is a coach in the minor league system for the Brewers. Ryan Middendorf had his contract purchased by the Brewers during the 2022 season and advanced from Arizona all the way up to Double-A Biloxi. Middendorf was selected by the Brewers to pitch in the Arizona Fall League where he is currently playing for the Glendale Desert Dogs.