Boomers Bring Back Davidson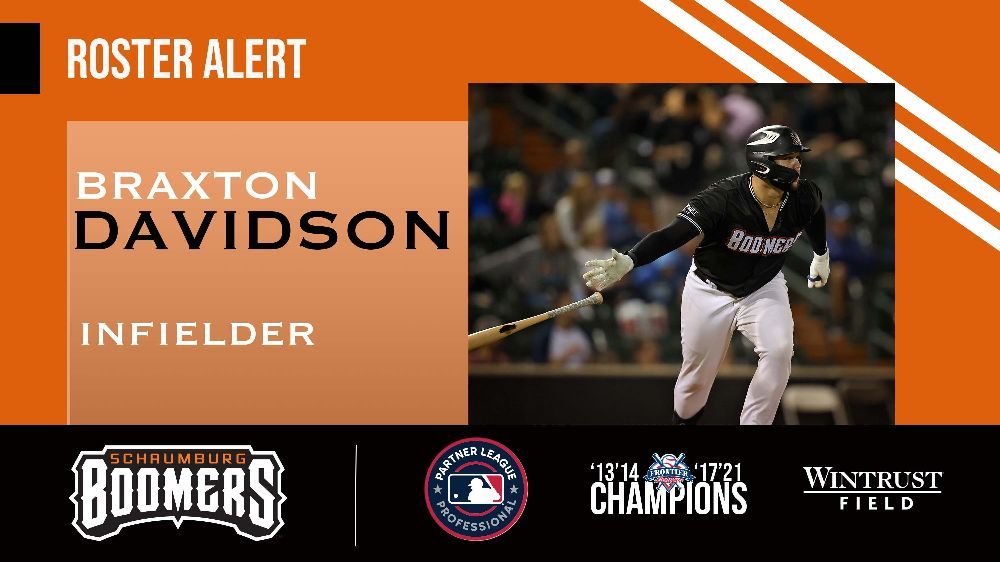 SCHAUMBURG, IL — The Schaumburg Boomers are proud to announce that another key piece of the 2021 Frontier League Champions will return to help the team attempt to win another title in 2022.
Braxton Davidson, a first round pick by the Atlanta Braves in 2014, has agreed to a contract for the 2022 campaign. Davidson returns to the middle of the lineup after appearing in 30 games with the team following a late-season trade. Davidson thrived with the Boomers, hitting .363 with 10 homers and 30 RBIs during his time with the team. The North Carolina native totaled 37 hits, 21 of which were for extra bases while drawing 24 walks to post an on-base percentage of .484 while slugging .775. Davidson homered three times in the playoffs including twice in the Championship Series.
Joining the team on August 10, Davidson posted two hits in his debut with the club and went on to record 11 more multi-hit games. The left-handed hitter also hit a walk-off homer in a homerun derby against Evansville and tallied three multi-homer games. Overall, Davidson drilled 22 homers in the Frontier League last year, good for second in the league.
"Can't say enough about what having Braxton back does for this club. He's a true middle of the order gut that is a threat every time he steps in the box. He also carries himself like a true pro and is a great guy to have in the clubhouse," said Manager Jamie Bennett.
Davidson was chosen 32nd overall by the Braves out of T.C. Roberson High School in Asheville, N.C. The 25-year old spent five years as a member of the Atlanta organization, reaching High-A with the Florida Fire Frogs in 2018. Davidson hit 20 homers that season and played in the Arizona Fall League, hitting a walk-off homer in the championship game. During four years playing for full season affiliates, Davidson slammed 47 homers.
Schaumburg set a franchise record last season by belting 86 homers en route to the team's third division title.