BOOMERS WIN 2013 CHAMPIONSHIP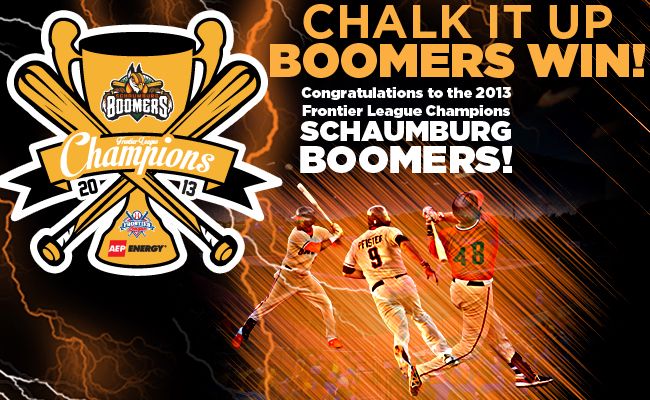 AVON, Ohio — The Schaumburg Boomers capped their second season of existence by winning the Frontier League Championship with an 3-1 victory over the Lake Erie Crushers in Ohio on Tuesday night, the first in team history.
Lake Erie opened the scoring in the bottom of the third against Schaumburg starter Seth Webster. The Crushers notched four consecutive singles but miscues on the bases led to just one run crossing on an RBI single from Seth Granger. Webster threw 5.1 innings in a no decision, striking out four. Lake Erie starter Matt Rein did not allow a hit until Frank Pfister singled leading off the fifth.
The Boomers tied the game in the top of the sixth, stringing together a two out rally. Sean Mahley legged out an infield single with two away and Steve McQuail followed by being hit by a pitch. Brian McConkey evened the game with a single to center, plating Mahley. Rein threw six innings and also did not record a decision, allowing just four hits with five strikeouts.
Schaumburg took the lead for the first time in the top of seventh against reliever Jordan Wellander. Justin Vasquez led off with a ground rule double to left. Michael Valadez walked and Alexi Colon singled to load the bases. Jordan Deanbounced into a fielder's choice to plate the go ahead run.Gerard Hall followed by reaching on an error as another run scored.
Schaumburg has won every game of the playoffs in the seventh inning or later. Tony Delmonico picked up the win, tossing 1.2 innings in relief.Dexter Price locked up his third save of the championship series. Mike Giovenco was named the Frontier League Championship Series Most Valuable Player appearing in all three games of the series with a record of 2-0 with a 1.17 ERA and seven strike outs.
The Boomers (59-37, 6-0) became the first team in league history to complete a 6-0 run through the playoffs, following up a sweep of the Florence Freedom with the three game dispatching of Lake Erie, who won the title in 2009. Schaumburg is the 16th different team to claim a championship in Frontier League history. The Frontier League is the longest running independent league. The Boomers bring the first title home to Schaumburg in the existence of professional baseball in the village, which began in 1999.