BOOMERS CLINCH BACK-TO-BACK CHAMPIONSHIPS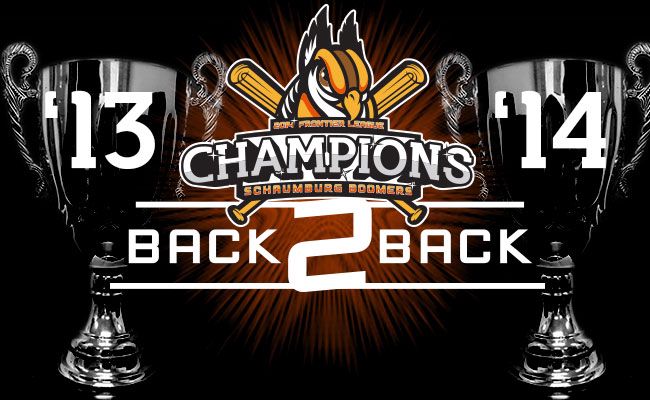 SCHAUMBURG, Ill. — The Schaumburg Boomers, presented by Wintrust Community Banks, became just the third team in Frontier League history to claim back-to-back championships, taking down the River City Rascals 6-2 on Wednesday to win the best-of-five series 3-1.
The Boomers wasted no time in getting on the offensive. Schaumburg chased River City starter Kyle Brady after just seven batters, grabbing a 3-0 lead in the bottom of the first. Tony Delmonico was hit by a pitch with the bases loaded to force home the first run of the night. Jordan Dean capped the scoring with a two-run single up the middle. Gerard Hall stretched the advantage to 4-0 with an RBI double in the third.
Seth Webster was the starting pitcher in all three series clinchers this year. Schaumburg owns a 5-0 record in playoff games started by the Louisiana native, who also started both playoff clinching contests in 2013. Webster, who finished 3-0 in the playoffs, retired the first 11 River City hitters of the night. Webster worked into the eighth, allowing just one run on six hits with two walks and three strikeouts.
River City broke through in the fifth with a single run, clawing within 4-1. Joe De Pinto logged an RBI double in the bottom of the sixth to once again extend the lead to four runs at 5-1. Schaumburg finished with 12 hits led by two each from Alexi Colon, Tony Delmonico, who hit his second homer of the series in the seventh, Mark Nelson, and De Pinto.
The Boomers won the final three games of the series after dropping the first contest on the road. Gerard Hall was selected as the MVP of the Championship Series.
The Boomers (61-35, 6-2) capped a solid third season which saw the franchise lead the league in attendance and set a league record for home victories. The last team to win consecutive titles was the Windy City ThunderBolts in 2007-08. The 2014 Boomers featured 13 players who were a part of the championship last year.