Boomers Delmonico Contract Purchased By Padres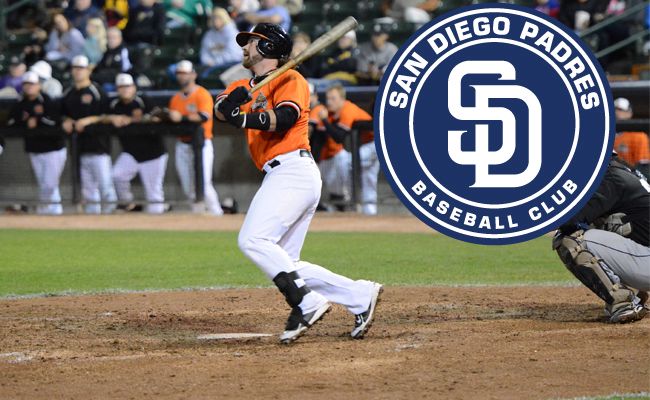 SCHAUMBURG, Ill. — The two-time defending Frontier League Champion Schaumburg Boomers standout first baseman Tony Delmonico's contract was purchased by the San Diego Padres, it was announced today.
Delmonico, 27, appeared in just 40 games for Schaumburg in 2014, but helped the Boomers secure their second consecutive championship, leading the club in batting average (.356) and home runs (12). Delmonico did most of his damage during the season's final month with a .417 batting average, eight doubles and 10 home runs and carried that momentum over to the playoffs with a ridiculous .367/.500/.700 slash line and three homers over the eight game playoff run.
Delmonico becomes the sixth member of the Schaumburg Boomers to have his contract purchased by a Major League Organization joining: Edwin Carl (Los Angeles Dodgers – July 2013), Sean Mahley (Diamondbacks – September 2013), Steve McQuail (Arizona Diamondbacks September 2013), Gerard Hall (Diamondbacks – January 2014) and Nick Schulz (San Diego Padres – April 2014).
In 2014, McQuail, the Boomers career home run king, was a mid-season All-Star in the Midwest League and collected a total of 17 home runs across stops at Low-A, High-A and Triple-A in the Diamondbacks system. Schulz thrived as well in 2014 posting a .341/.386/.545 slash line with the Padres at Low-A Fort Wayne in the Midwest League.
A sixth round pick of the Los Angeles Dodgers in 2008, Delmonico got off to a fantastic start to his minor league career with the Ogden Raptors of the Pioneer League, batting .340 with 11 home runs and 20 doubles in 35 games. Advancing as high as Single-A Advanced Rancho-Cucamonga in the Dodgers system before being released earlier in 2012, Delmonico held a .276 batting average in the Dodgers system with 37 home runs and 178 RBI.
Delmonico appeared in 24 games and logged 31 innings pitched on the mound in 2012 with London and the Boomers. In a Schaumburg uniform, the right-hander struck out 10 batters in 10.2 innings over 9 games down the stretch. Delmonico picked up a save and three games finished while also going 2-4 with a double in his lone game as a Boomers infielder in 2012.
After finishing his second stint with the Boomers as a pitcher and earning the victory on the mound in the final game of the 2013 Championship Series, Delmonico started the 2014 campaign in the Atlantic League, splitting time between the Lancaster Barnstormers (appearing in 15 games and hitting .304 with a homer and 6 knocked in) and the Southern Maryland Blue Crabs (32 games, two home runs and 13 RBI).
The Knoxville, Tenn. native finished his three-year college career at Florida State University after he played his first two seasons at the University of Tennessee. At FSU, the six-foot infielder batted .374 with 12 doubles and eight home runs in 66 games. Delmonico hit .329 with 12 home runs and 85 RBIs in his two seasons as a Volunteer and was named a Louisville Slugger Freshman All-American and earned a spot on the SEC All-Freshman Team.
The time is now to secure your piece of the fun and excitement of Schaumburg Boomers Baseball. Season Tickets and Ticket Bundles are available now for the 2015 season as the Boomers compete for the three-peat! For more information, log on to www.boomersbaseball.com, give us a call at 847.461.3695 or stop by the Boomers Box Office in Schaumburg, Ill. located at 1999 S. Springinsguth Road.