Two-Time Champs Extend Standout Sciacca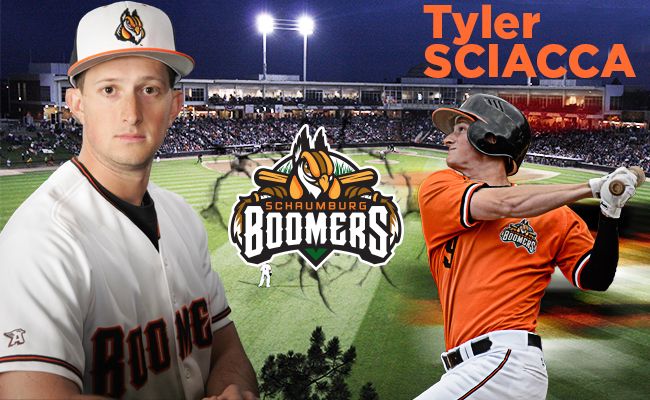 SCHAUMBURG, Ill. — The two-time Frontier League Champion Schaumburg Boomers, presented by Wintrust Community Banks, and 2013 Manager of the Year Jamie Bennett begin the quest for the three-peat with a contract extension for infielder Tyler Sciacca it was announced today.
Sciacca, 24, was having an All-Star caliber season before a leg injury cut short his first season as a member of the Boomers. Splitting time between shortstop and third base, Sciacca was on pace to make a dent in the Schaumburg record books with 63 hits in just 54 games and a .337/.382/.390 slash line while also compiling 23 runs scored, seven doubles and 26 runs batted during his first professional season in 2014.
The 5-foot-10 infielder was a 27th round selection by the Chicago Cubs in the 2013 Major League Entry Draft who excelled as a middle infielder at Villanova and in the prestigious summer collegiate Cape Cod Baseball League. In four years at Villanova, the Staten Island native boasted an impressive .312/.396/.435 stat line in 184 college games with 45 doubles, 10 triples and 102 runs scored.
Sciacca played for both the Harwich Mariners and the Yarmouth-Dennis Red Sox in 2012 in the Cape Cod Baseball League, which is arguably the top summer collegiate league in the country. In 13 games with the Red Sox, Sciacca batted .400 with 12 hits and seven runs scored, and in 23 games with the Mariners, he collected 22 hits with three homers and 12 RBI.
A phenomenal junior season at Villanova in 2012 with a sparkling .359/.430/.500 line to go along with 43 runs scored, 16 doubles and six triples in 55 games played earned Sciacca Second Team All-Big East Honors. After an injury cost Sciacca what would have been his junior year in 2011, he returned for a fifth year in 2013. As a senior, Sciacca posted a line of .299/.396/.458 with 18 doubles and 36 RBI.
Time is running out to ensure Christmas delivery for Boomers Holiday Packs so take a few minutes to order online, over the phone or in person before December 19 at 5 p.m. Call us today 847.461.3695 or visit www.boomersbaseball.com for more information on Holiday Packs, Season Tickets, Boomer Bundles, Group Outings and the latest from the 2013 & 2014 Frontier League Champion Schaumburg Boomers.