Boomers Host Successful All-Star Week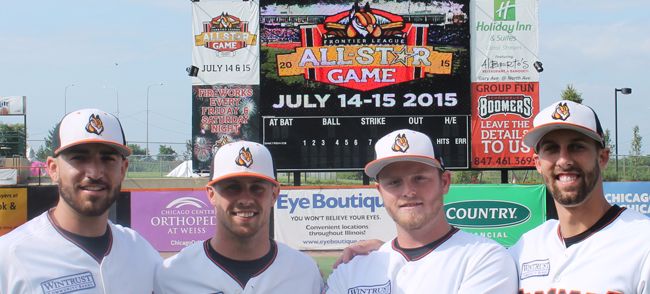 SCHAUMBURG, IL – The two-time defending Frontier League Champion Schaumburg Boomers, presented by Wintrust Community Banks, saw 6,572 fans watch their 2015 Frontier League All-Stars perform admirably at Boomers Stadium. The new Frontier League All-Star Game record draw got to see Boomers players Eddie Cody, Craig Massey,Jordan Dean, and Michael Valadez play in front of the hometown fans.
The Boomers also held a successful Frontier League All-Star Game luncheon and Hall-of-Fame ceremony at the Hyatt Regency Schaumburg which impressed keynote speaker, Chicago Blackhawks President and CEO John McDonough.
"This event today far exceed my expectations," McDonough said after the Hall-of-Fame ceremony. "The people, the attendance, how well organized it was. How they honored their current players, their former players, their tradition, the league, was really laudable."
The luncheon was part of the 2015 All-Star Game festivities hosted by the Boomers, the Frontier League's reigning back-to-back champions. The Frontier League inducted six players into the Hall-of-Fame prior to McDonough's keynote speech, which focused on baseball and the growth of businesses.
Continually wowed by the Boomers organization, the Chicago native McDonough continued to praise the Boomers and the Frontier League in general.
"I've had a chance many times to go out to Boomers Stadium and enjoy a game," McDonough continued. "It's great entertainment. It's not just great baseball it's great entertainment and I think (the league) sees the same thing."
The All-Star game began with a bang as East division leadoff hitter Jay Austin from the Traverse City Beach Bums reached second base on an error on the first plate appearance of the game. He would later come around to score on Beach Bums' teammate Jose Vargas' single to give the East a 1-0 early lead.
The lead, however, did not last very long, as the West touched Traverse City pitcher Kramer Champlin for 3 runs in the bottom of the 3rd. A pair of River City Rascals got the big inning started, with right-fielder Brian Hansen leading off with a single and Redal doubling.
The two runners in scoring position were ripe for the picking for Hur, who doubled to right-center to bring both men home and put the West team up 2-1. Taylor Ard, also of River City, then followed Hur with a single to bring in another run and put the West team up 3-1, a lead that they would not relinquish.
From the third inning on, it was all about both teams' pitching staffs, as both groups allowed only 1 run each, to bring the final score to 4-2.