Boomers Hold Off River City in Series Opener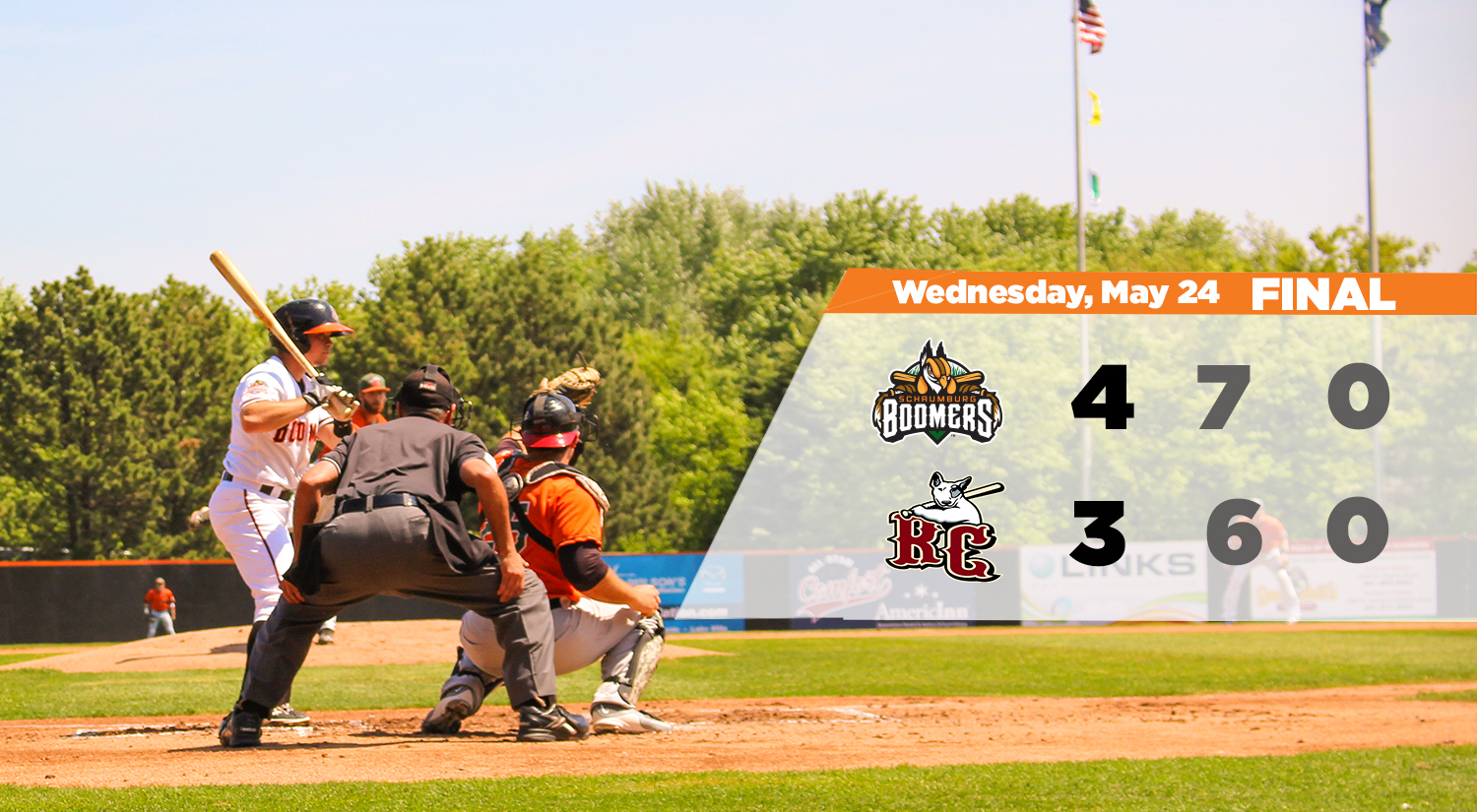 The Schaumburg Boomers, presented by Wintrust Community Banks, used a two-run fifth inning to upend the River City Rascals, 4-3, on Wednesday from Boomers Stadium.
Schaumburg trailed twice in the game, but remained persistent instantly responding on each occasion.
River City got on the board in the first after lead-off hitter Brandon Thomas walked, stole second and scored on a groundout by Josh Silver.
The Boomers answered in the home half of the first after two walks and a fielder's choice loaded the bases with one out. With two strikes and two outs, Kenny Towns was hit by a pitch, forcing home the equalizer. Sean Godfrey drove home David Harris on an infield-single to push the Boomers ahead 2-1.
The visitors would grab the lead by plating two in the fifth on a double into the gap by Mike Jurgella.
The lead would not stand long as the Boomers answered back with two of their own in the home half of the fifth. One run would cross the plate via a double play by Towns and the second via a wild pitch, plating Harris.
Starter Lars Liguori handed the ball over to the bullpen in the seventh. Liguori finished the ballgame going six innings, allowing three runs on five hits and striking out two earning his first victory of the season.
A bullpen committee of Rob McDonnell, Alec Kenvilvort and Jake Joyce nailed home the win, throwing a combined three shutout innings.
Joyce struck out one hitter in the ninth while picking up his second save of the year.
The Boomers drew six walks and finished with seven hits, two of which came from Seth Spivey, extending his hitting-streak to nine games. Spivey has posted six consecutive multi-hit performances.
Tomorrow will feature a twin bill for 21 and over night at Boomers Stadium, beginning with the make-up of yesterday's rainout at 5:00 p.m.
The Boomers will send out LHP Gunnar Kines (2-0, 0.75 ERA) to the hill in game one, opposite the Rascals RHP Tim Koons (0-1, 9.00 ERA).
Game two features RHP Aryton Costa (1-0, 5.00 ERA) going toe-to-toe with LHP Dan Ludwig (1-0, 2.00 ERA) of River City.