Boomers Split Doubleheader to Win Series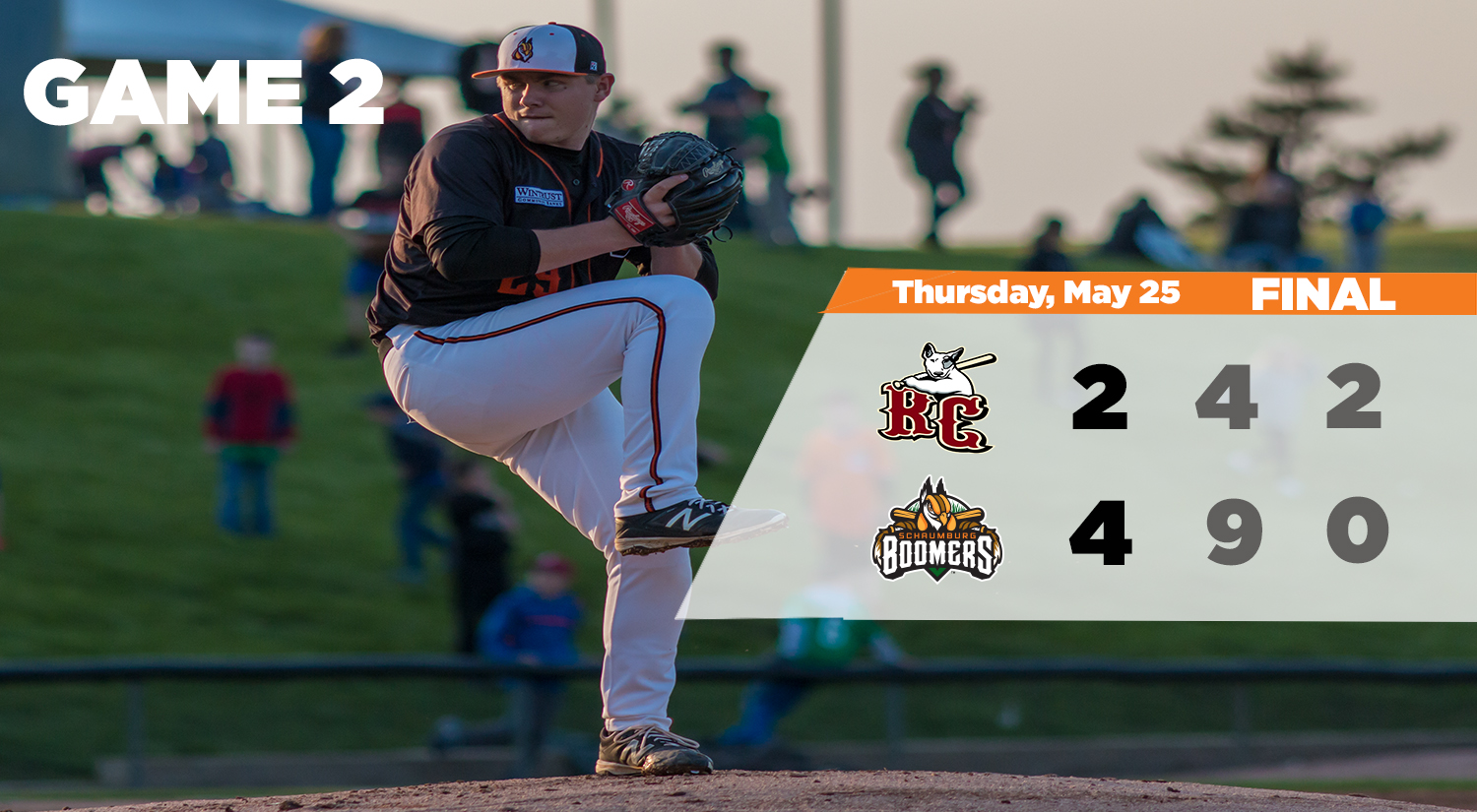 SCHAUMBURG, IL — The Schaumburg Boomers, presented by Wintrust Community Banks, split a home doubleheader with the River City Rascals on Thursday night, but won two of three in the series.
Gunnar Kines suffered a hard luck loss in the opener, allowing a two-run homer to River City's Mike Jurgella in the top of the sixth. Kines threw a complete game and struck out five in suffering his first loss of the season. The Boomers managed just three hits in the contest, a season low.
River City tallied single runs in the second and third to grab a 2-0 lead in the second contest against starter Aryton Costa. Schaumburg came storming back with four unanswered to salvage the split. All four runs scored with two outs. Kenny Towns drove home Josh Gardiner with an RBI single in the third and Jack Parenty evened the game with a bases loaded infield hit in the fourth, his first hit as a professional. Zach Weigel delivered a pinch-hit RBI single in the sixth and Parenty followed with one of his own.
Costa allowed two runs in five innings in a no-decision. Alec Kenilvort picked up his first win while Jake Joyce recorded his third save. The offense notched nine hits with Parenty collecting a pair with two RBIs. Seth Spivey picked up hits in each contest and owns an 11-game hitting streak.
The defending Frontier League champion Evansville Otters visit Boomers Stadium for Memorial Day weekend with fireworks following each contest.The first game takes place at 6:30 p.m. on Game Show Night. RHP Kagen Hopkins (1-1, 4.09) takes the ball in the series opener against RHP Felix Baez (1-0, 2.46). Make the Boomers part of your plans this season by calling (847) 461-FOWL (3695). Hear all of the game action this season on AM 1410 WRMN with the voice of the Boomers, Tim Calderwood.