Boomers Overcome Injuries to Claim Third Straight Win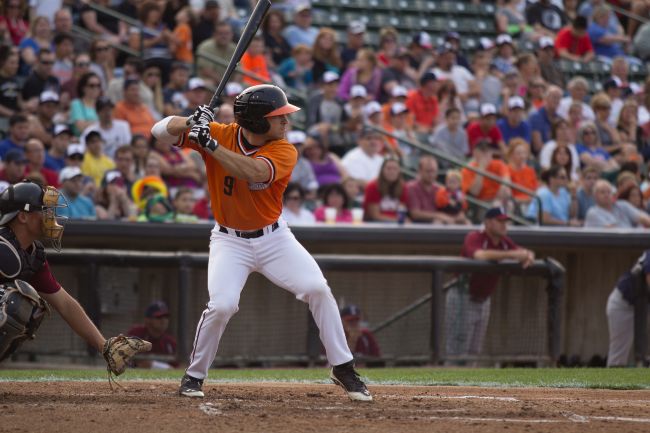 SCHAUMBURG, IL — The Schaumburg Boomers, presented by Wintrust Community Banks, had two players leave due to injury, but tallied a 6-3 victory over the Evansville Otters on Saturday night.
Kyle Ruchim led off the game with an infield single and Josh Gardiner moved him to third by finding an opening on the left side of the infield. Seth Spivey handed Schaumburg the early lead with a run-scoring groundout. Evansville tied the game with a run in the third against Preston Jamison, who left the game due to injury after just 2.1 innings. Gardiner would leave the game in the fourth due to an injury as well, forcing catcher James Keller to move to second base.
The Boomers came back with three in the bottom of the third to grab the lead for good. David Harris knocked home his 16th run of the season with a double and Sean Godfrey added an RBI while a wild pitch scored the final run. Ruchim and Spivey extended the lead with RBI singles in the sixth. Evansville scored twice in the ninth and brought the tying run to the plate, but the Boomers held on for a third consecutive win.
Austin Goss, the top pick at the 2017 Frontier League draft, earned his first career win by working 3.2 scoreless frames in relief of Jamison. Derek DeYoung made his season debut with two perfect frames, striking out three. Austin Kerr worked the ninth to cap the win. Ruchim finished with two hits and two runs as the Boomers finished with nine hits. Gardiner and Cosimo Cannella also posted two hits. Cannella tallied his first career multi-hit performance.
The current three-game win streak matches the longest of the year for the Boomers (10-4), who have been in first place all season. The series will conclude with a special Sunday night game at 6:30 p.m. The contest is a Tribute to the Troops and will feature another postgame fireworks display.RHP Conrad Wozniak will make his Schaumburg debut opposite a former Boomer, RHP Max Duval (1-1, 2.25). Duval pitched for Schaumburg in both 2014 and 2015. Make the Boomers part of your plans this season by calling (847) 461-FOWL (3695). Hear all of the game action this season on AM 1410 WRMN with the voice of the Boomers, Tim Calderwood.