Boomers Sneak Past Windy City in Series Opener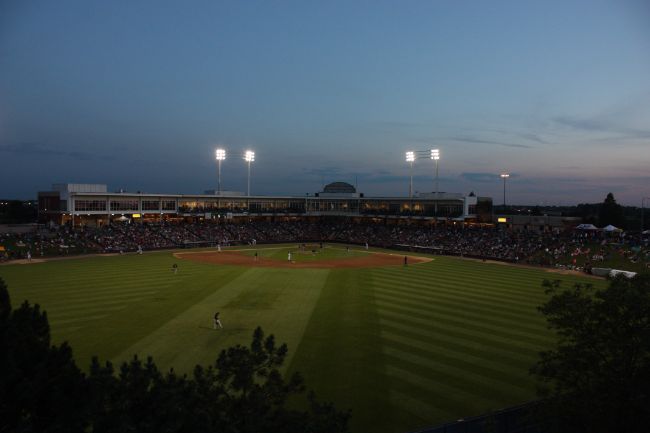 The Schaumburg Boomers, presented by Wintrust Community Banks, came from behind to top Windy City, 3-2, in the series opener of three game-set on Friday night.
Coming into Friday's game, the Boomers stood a game ahead of the Thunderbolts for first place in the East Division.
Windy City got the scoring started in the second after Larry Balkwill homered giving the visitors an early 1-0 lead.
The Thunderbolts tacked onto their lead in the third when Coco Johnson doubled and subsequently stole third and scored on a throwing error on the stolen base.
Schaumburg cut the lead to one after newly acquired Alex Fink recorded his first professional hit and Jack Parenty followed suit. A third consecutive hit by Kyle Ruchim would plate Fink, but a baserunning error doubled-up Parenty and Ruchim both standing at second base.
Seth Spivey doubled to start the fourth and would advance to third on a wild pitch. Sean Godfrey would tie the game up on a single to left moments later.
Schaumburg grabbed their first lead of the game on a Kenny Towns solo homer to start the sixth inning, Towns' second longball of the season.
After starter Kagen Hopkins handed the ball to the bullpen in the sixth, a committee of Austin Goss, Austin Kerr, Derek DeYoung and Alec Kenilvort threw a combined four shutout innings, with Kenilvort recording his second save.
Hopkins tossed five innings, allowing two runs on five hits and striking out three. Kerr was credited with the victory, his third of the year.
Schaumburg pitchers also combined to strand 12 Thunderbolts on the base paths.
Parenty recorded a pair of hits, while Spivey has now reached base safely in 18 consecutive games.
RHP Conrad Wozniak (0-0, 5.06 ERA) is slated to start game two on Saturday for the Boomers opposite LHP Jake Fisher (2-0, 5.06 ERA) of the Thunderbolts. First pitch is set for 6:00 p.m. from Boomers Stadium.