Boomers Drop Extra-Inning Affair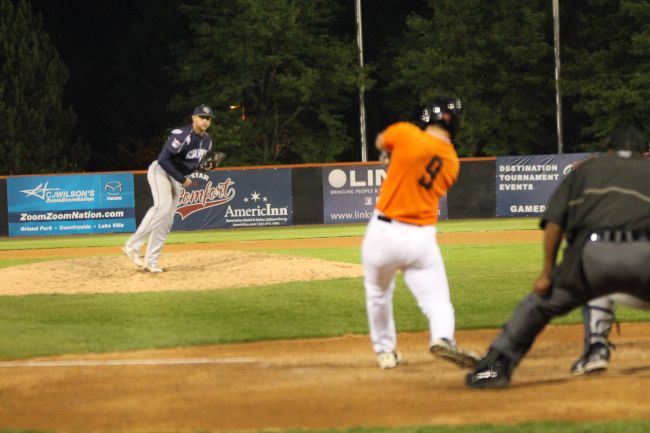 SCHAUMBURG, IL — The Schaumburg Boomers, presented by Wintrust Community Banks, dropped the middle game of a three-game set with the Windy City ThunderBolts, suffering a 5-2 loss in 11 innings in the 500th game in team history.
Neither team scored until the eighth inning as starter Conrad Wozniak matched Windy City hurler Jake Fisher with zeroes. Wozniak threw six shutout innings in his second start with the Boomers, walking one and striking out three. Windy City scored a pair of runs in the eighth against the bullpen to take the lead. Schaumburg battled back in the bottom of the eighth, finally forcing Fisher out of the game to tie the score. Jack Parenty and Kyle Ruchim opened with singles and with two outs and two strikes, Seth Spivey doubled home two to even the game. Keenyn Walker doubled home three in the 11th to account for the final.
Spivey has reached base in 19 consecutive games and finished with two hits. The Boomers totaled 10 in the defeat. Schaumburg loaded the bases in the bottom of the ninth but did not score while Jake Joyce left the bases loaded for Windy City in the 10th. Joyce suffered the loss. Ruchim also finished with two hits in the defeat, which broke a three-game win streak.
The series comes to an end on Sunday afternoon with Autism Awareness Day on a Family Sunday at Boomers Stadium. Schaumburg (14-6), who has been in first all year, holds a one-game lead over Windy City entering the finale and will send LHP Lars Liguori (1-0, 3.18) to the hill against RHP Clay Chapman (0-2, 2.42). Make the Boomers part of your plans this season by calling (847) 461-FOWL (3695). Hear all of the game action this season on AM 1410 WRMN with the voice of the Boomers, Tim Calderwood.