Windy City Swings Past Boomers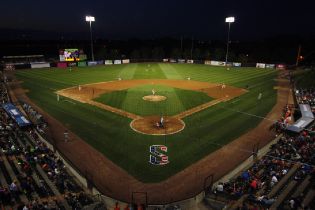 SCHAUMBURG, IL — The Schaumburg Boomers, presented by Wintrust Community Banks, scored six runs in the second inning but could not slow down the Windy City ThunderBolts in dropping an 8-6 decision in the rubber contest on Sunday afternoon.
Coco Johnson connected on a two-run homer in the top of the second to open the scoring for Windy City. The Boomers responded with one of the best innings of the year, scoring six runs in the bottom of the frame to take the lead. Cosimo Cannella led off with his first professional homer, slicing the deficit in half. Kyle Ruchim drilled a two-run double to deep center, giving Schaumburg a 3-2 edge. Zack Weigel followed with an RBI single and Seth Spivey tripled home a run while Sean Godfrey capped the innings with an RBI groundout.
The runs would be the only runs of the game for the Boomers, who did not strike again. Windy City plated two in the third and three in the seventh to steal the series win and pull into a first place tie. Derek DeYoung suffered the loss in relief. Schaumburg posted 10 hits with two coming from Spivey, who has reached in 20 straight games. Spivey also owns 11 multi-hit games this year. Cannella posted a career best three hits in the defeat.
The Boomers (14-7) hit the road for three games at Florence this week following days off Monday and Tuesday. The team plays a doubleheader on Wednesday at 4:35 p.m. LHP Gunnar Kines (3-0, 1.08) and RHP Aryton Costa (2-0, 3.43) will start both games. Make the Boomers part of your plans this season by calling (847) 461-FOWL (3695). Hear all of the game action this season on AM 1410 WRMN with the voice of the Boomers, Tim Calderwood.