Boomers Escape Grizzlies in Extras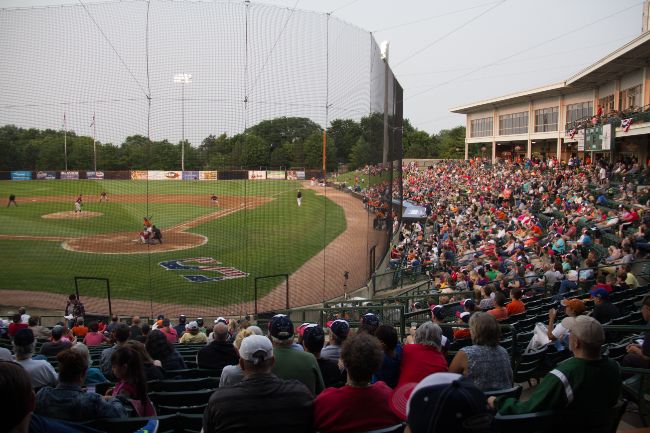 SAUGET, IL — The Schaumburg Boomers, presented by Wintrust Community Banks, failed to hold a seven-run lead in the eighth inning but posted a 10-9 decision to escape with an 11-inning win over the Gateway Grizzlies on the road Wednesday.
Schaumburg appeared destined to run away with the contest, scoring three runs in each of the first two innings to build an early 6-1 lead. Seth Spivey drilled a two-run homer in the first following an RBI double from Kenny Towns. Zack Weigel doubled in a run in the second and Spivey added an RBI single. The lead would extend to 8-1 and 9-2, seemingly more than enough for Kagen Hopkins. Gateway had other ideas, scoring seven runs in the eighth to tie the game. Garrett Mattlage homered twice for Gateway including a grand slam in the eighth against Hopkins. The contest reached extras and Towns was able to score the winning run on a safety squeeze from Sean Godfrey.
Hopkins threw 7.1 innings and was cruising before the eighth. The All-Star did not factor in the decision despite throwing the longest outing of the year. Alec Kenilvort picked up the win in relief, improving to 3-1 by striking out three in two scoreless frames. The offense posted 15 hits with Spivey matching the team record by notching five. Spivey also finished with four RBIs. Kyle Ruchim, Weigel, and Towns added two hits.
The Boomers (21-8), owners of the best record in the league, will aim for the sweep on Thursday night at 7:05 p.m. RHP Conrad Wozniak (0-0, 1.56) starts for the Boomers against RHP Vincent Molesky (2-4, 5.00). Make the Boomers part of your plans this season by calling (847) 461-FOWL (3695). Hear all of the game action this season on AM 1410 WRMN with the voice of the Boomers, Tim Calderwood.