Spivey named Frontier League Player of the Week for second time this season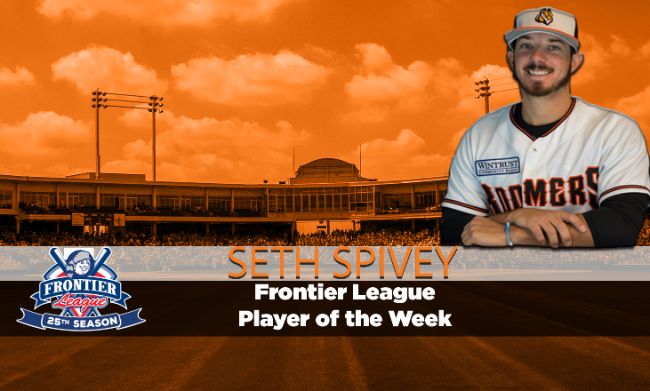 Schaumburg Boomers first baseman Seth Spivey has been named the Frontier League Player of the Week, the league announced Monday.
This is the second time this season Spivey has been the recipient of this award and the third time a Boomer has received the honor.
The Brenham, Texas native went 5-for-5 on June 14, drove in four runs and added a home run in a mid-week matchup with the Gateway Grizzlies. Spivey also walked four times in the series versus the Grizzlies.
Spivey continued his tear in Normal over the weekend. The left-handed hitter tallied seven hits and drove in three runs versus the CornBelters, including belting his sixth homer of the 2017 campaign.
The first-year Boomer is the Frontier League's leading hitter, owning a .424 batting average, while also driving in the most runs in the league with 35. Spivey also leads the league in hits with 50 and is tied for the most extra-base hits with 18. The Abilene Christian University alum also ranks second on the team in runs scored with 29.
Spivey has reached base safely in the last 10 games for Schaumburg, also owning 17 multi-hit games this season.
Spivey, a 10th round pick of the Rangers in 2014, spent three seasons in the Texas organization. Spivey hit .261 during his tenure while connecting on 13 homers with 178 RBIs and reached High-A with the High Desert Mavericks.
The Boomers are coming off a unblemished six-game road trip this past weekend, owning the best record in the Frontier League at 25-8. Schuamburg returns home for six games this week, beginning with a Tuesday matchup with the Windy City Thunderbolts at 6:35 p.m.