Boomers Beat Thunderbolts in Record Setting Performance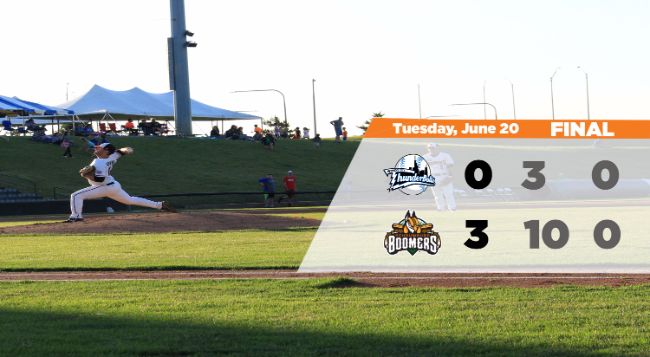 The Schaumburg Boomers, presented by Wintrust Community Banks, defeated Windy City, 3-0, on Tuesday night in the opener of a three-game set.
One run would've been enough on a record setting night for starter Kagen Hopkins, who tossed 7 1/3 shutout innings, while striking out 12, setting the new single-game strikeout record.
Kyle Ruchim walked to lead off the first, followed by a bunt single Zack Weigel. Josh Gardiner would sacrifice over the runners setting up a Seth Spivey sacrifice-fly, giving the home team an early 1-0 advantage.
The Boomers have now scored in the first inning in six consecutive games now.
David Harris started a two-run sixth with a single before scoring from second on an infield single by Sean Godfrey. The Boomers added a second run in the frame on a James Keller double, taking a 3-0 lead into the seventh.
Hopkins only allowed one hit and received the win, moving to 4-1 on the season. The righty would retire 16 in a row before surrendering a walk in eighth. Garrett Kelly and Alec Kenilvort would nail home the win, with Kenilvort recording his fifth save of the season.
Ruchim extended his on base streak to 20 games, while also extending his hitting streak to 10.
Weigel, Godfrey and James Keller all recorded two hits with Godfrey adding a stolen base.
Schaumburg enters Wednesday's game riding a season-best seven game win streak as they trot out RHP Conrad Wozniak (0-0, 1.61 ERA) opposite the Thunderbolts RHP Clay Chapman (0-4, 3.71 ERA). First pitch is scheduled for 11 a.m.
With the win, the Boomers now lead the East Division by 7.5 games with the Frontier League's best record of 26-8.