Record Day Powers Boomers to Series Win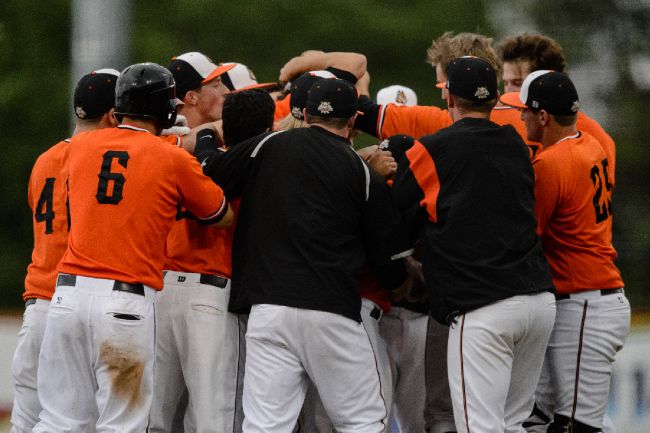 SCHAUMBURG, IL — The Schaumburg Boomers, presented by Wintrust Community Banks, had a record setting Thursday afternoon in tallying a 20-5 win over the Windy City ThunderBolts to collect a series win.
The first two batters of the game were retired before the floodgates opened as Schaumburg scored four runs, scoring in the first inning for the seventh time in the last eight contests. Josh Gardiner walked following a lengthy at bat and Seth Spivey followed with a single to set the stage for David Harris, who drilled a three-run homer. Kenny Towns followed with a solo blast as the Boomers connected on back-to-back homers for the first time since July 16, 2012 and the fourth time in team history.
Schaumburg scored in seven different innings, plating multiple runs in six frames to establish a single game team record for runs. Harris smacked a two-run homer in the fourth and added a solo shot in the seventh to match the team and league record. Gerard Hall hit three longballs at Gateway on August 17, 2014. Harris also singled in the third and doubled in the eighth to set a team mark with six hits and match the league record. Harris drove home eight runs, setting a team standard after matching the previous mark with six in the third game of the year.
The middle of the lineup finished with 17 hits as Schaumburg slammed 23, the second most in team history. Towns homered twice, scored four times, and drove home four. Spivey notched four hits and scored three times. Gardiner tacked on three hits with three runs while Zack Weigel connected on the first homer of his pro career, finishing with two hits and a pair of RBIs. Sean Godfrey posted three hits in the nine hole, tripling twice to equal the team mark set by Alexi Colon in 2013.
Lars Liguori was the beneficiary of the run support, working 5.2 innings to improve to 4-0 on the season. Liguori has received 43 runs of support over his last three outings. Garrett Kelly worked 1.1 innings and Austin Kerr finished by working the final two.
The Boomers, owners of the top record in the league at 27-9, welcome the Washington Wild Things on Friday night for halfway to Christmas featuring postgame fireworks. RHP Aryton Costa (3-0, 4.63) will make the start in the opener at 6:30 p.m. opposite Washington's RHP Cameron Stanton (0-1, 9.00). Make the Boomers part of your plans this season by calling (847) 461-FOWL (3695). Hear all of the game action this season on AM 1410 WRMN with the voice of the Boomers, Tim Calderwood.