Spivey named Frontier League Player of the Week for second week in a row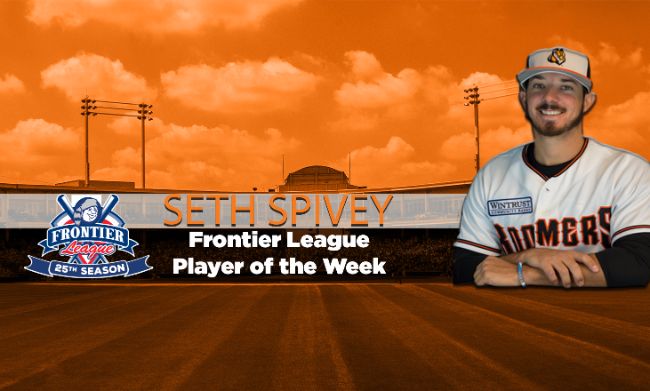 Schaumburg Boomers first baseman Seth Spivey has been named the Frontier League Player of the Week, the league announced Monday.
This is the third time this season Spivey has been the recipient of this award, this week's award marking back-to-back weeks he has received the honor. This is the fourth time a Boomer has received the honor this season.
Spivey entered the week as the league's leading hitter and stayed there with this week's performance.
The Brenham, Texas native recorded four hits in a mid-week series with the Windy City Thunderbolts, including a 4-for-6 showing in the Boomers finale. Spivey also drove home six runs, three doubles and hit his seventh homer of the season during the three-game set versus the Thunderbolts.
The utility infielder tallied five more hits versus Washington over the weekend.
The first-year Boomer remains the Frontier League's leading hitter, owning a .443 batting average, while also driving in the most runs in the league with 41. Spivey also leads the league with 62 hits and 23 doubles, while also leading the league with an on base percentage of .524 and a slugging percentage of .721. He also ranks second in the league in runs scored with 36, just three runs behind teammate Kyle Ruchim.
The Abilene Christian University has reached base safely in the last 16 games, also owning a nine-game hitting streak. He has also recorded 21 multi-hit games to this point in the season.
Spivey, a 10th round pick of the Rangers in 2014, spent three seasons in the Texas organization. Spivey hit .261 during his tenure while connecting on 13 homers with 178 RBIs and reached High-A with the High Desert Mavericks.
The Boomers, owners of the best record in the Frontier League, hit the road for six games this week, beginning with a trip to Joliet on Tuesday night. First pitch from Silver Cross Field is scheduled for 7:05 p.m.