Rain Suspends Boomers Game at Joliet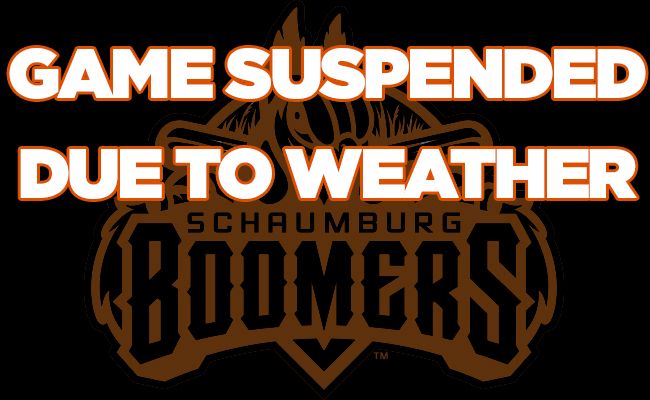 JOLIET, IL — The Schaumburg Boomers, presented by Wintrust Community Banks, played one batter over three innings of a contest with the Joliet Slammers before rain fell, forcing the suspension of the contest.
The game will resume on Thursday night at 5:00 p.m. in the top half of the fourth inning with Schaumburg trailing 3-2. Nick Oddo had singled to start the fourth inning before steady consistent rain began to fall, forcing the suspension of the contest. The game marks the third time this season that rain has affected a contest with a rainout, a shortened game, and now a suspension.
Lars Liguori had thrown three innings before the rain. Schaumburg took a 2-1 lead in the third on three consecutive two-out singles, but Joliet quickly grabbed the lead with two in the bottom of the inning. The game will be played to the full nine innings and will then be followed by a seven-inning affair.
The Boomers, who lead the East Division by 5.5 games, are attempting to avoid a third consecutive loss for the first time this year. RHP Aryton Costa (3-1, 5.27) will take the ball in the second contest. Make the Boomers part of your plans this season by calling (847) 461-FOWL (3695). Hear all of the game action this season on AM 1410 WRMN with the voice of the Boomers, Tim Calderwood.