Boomers Fall in Completion of Suspended Game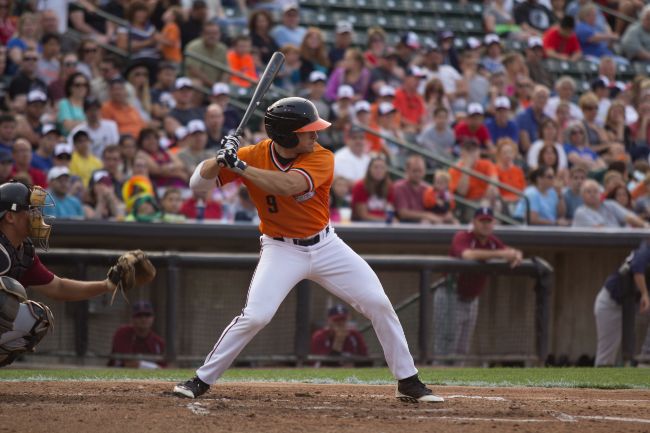 JOLIET, IL — The Schaumburg Boomers, presented by Wintrust Community Banks, completed a suspended game with the Joliet Slammers, dropping a 6-3 decision to suffer a third consecutive defeat. The second contest was rained out. A makeup date has not yet been announced.
The game resumed in the top of the fourth inning with Nick Oddo at first and the Boomers trailing 3-2. Schaumburg grabbed a brief 2-1 lead on Wednesday morning when Seth Spivey and David Harris notched back-to-back RBI singles. Spivey owns an 11-game hitting streak, his second 11-game streak this year. Joliet extended the lead following the resumption of the contest, scoring single runs in the fourth and sixth against Alex Luna, who took over on the hill. Harris notched an RBI single in the eighth to bring Schaumburg within 6-3 but the Boomers did not score again despite bringing the tying run to the plate in the eighth and ninth against a torrential rain.
Lars Liguori suffered his first loss of the season after allowing three runs in three innings on Wednesday. Alec Kenilvort struck out four in the seventh. The bullpen struck out nine with Luna fanning three in three innings and Derek DeYoung adding two in a perfect eighth. The Boomers finished with nine hits. Harris collected three with two RBIs. Zack Weigel scored two runs, reached three times and notched a pair of hits.
The Boomers, who lead the East Division by 4.5 games, have dropped three consecutive games for the first time this season. The team continues a six-game roadtrip this weekend at Lake Erie. RHP Aryton Costa (3-1, 5.27) will take the ball in the first game at 6:05 p.m. Friday night. Make the Boomers part of your plans this season by calling (847) 461-FOWL (3695). Hear all of the game action this season on AM 1410 WRMN with the voice of the Boomers, Tim Calderwood.