Bennett named East Division Manager for 2017 All-Star Game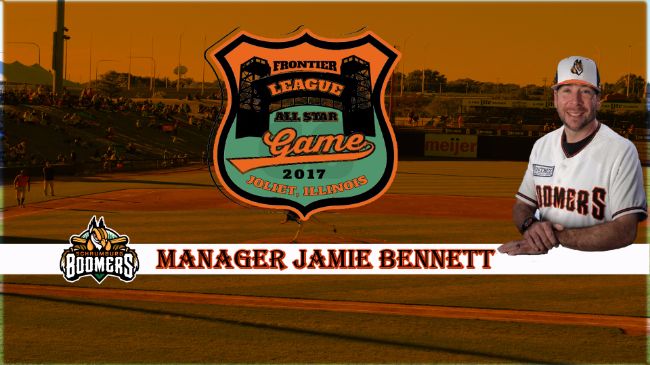 SCHAUMBURG, Ill. -- For the second time during his tenure with the Schaumburg Boomers, Jamie Bennett has been named the manager of the East Division in the Frontier League All-Star Game, which will be played in Joliet on July 12.
This marks the second time Bennett will be serving as the division's manager and the fourth time he has been a part of the All-Star Game coaching staff throughout his six-year managerial career in Schaumburg. Bennett directed the West Division squad in 2012 when Schaumburg featured a record 10 participants. The West dropped the game, hosted by the Normal CornBelters, 9-6.
The Tennessee native will be bringing the Boomers coaching staff along with him to Joliet. Pitching coach Tony Smith, hitting coach Adam Olow, first base coach Bill Fratto and athletic trainer Mylie Leatherman complete the Boomer representatives on the coaching staff.
Joliet Slammers manager Jeff Isom will complete Bennett's coaching staff for the game on Wednesday.
The two-time Frontier League champion will be opposed by Florence Freedom manager Dennis Pelfrey of the West Division. Florence has led the West Division for the entire 2017 season to this point. Bennett and Pelfrey were teammates and battery mates for three seasons in the league, marking the first time that teammates have served as opposing managers in the contest.
Schaumburg will have five players making the trip to Joliet as well. The Frontier League's leading hitter Seth Spivey, David Harris and Lars Liguori were all voted as representatives, with Spivey and Harris named starters. Garrett Kelly and Sean Godfrey were added to the All-Star list later in the week. Schaumburg relief pitcher Alec Kenilvort was voted to the all-star squad before the Milwaukee Brewers purchased his contract earlier this week.
The Boomers, who have led the East Division all but one day this season, wrap up their current homestand on Thursday night at 6:35 at Boomers Stadium. Schaumburg will then close out the first half of the season on the road at River City before heading into the all-star break.