Boomers Open Second Half With Win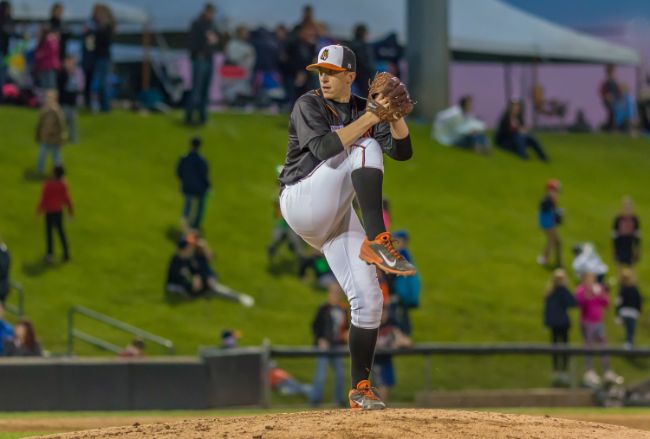 TRAVERSE CITY, MI — The Schaumburg Boomers, presented by Wintrust Community Banks, opened the second half of the season with a 5-3 10-inning road win over the Traverse City Beach Bums.
Schaumburg held a pair of leads early in the game, but Traverse City battled to tie the score each time. David Harris plated Kyle Ruchim with a two-out, two-strike single in the top of the first. With the game even at 1-1 in the fourth, James Keller served a two-run single up the middle with two outs to give the Boomers a 3-1 edge. Traverse City tied the game in the sixth after Schaumburg left the bases loaded in back-to-back frames. The Boomers did not have a hit for three straight innings late before stringing together three straight singles in the 10th to win the game. Ryan O'Malley handed Schaumburg the lead for good with a two-run single.
Conrad Wozniak struck out a career high nine in 5.1 innings. Kyle Westwood picked up the win with 1.2 innings of relief. Garrett Kelly slammed the door for his first save. The Schaumburg pitching staff struck out 15 batters and own games with 15, 16 and 17 strikeouts against Traverse City. Harris guided a 12-hit parade with three. Ruchim and Keller each notched a pair.
The Boomers (35-16), who lead the East Division by six games, own the best record in the league, and are off to the best start in franchise history, will continue the series on Saturday night. RHP Michael Wood (1-0, 5.40) will make his third start for the Boomers against RHP Brian Bayliss (0-1, 3.00). Make the Boomers part of your plans this season by calling (847) 461-FOWL (3695). Hear all of the game action this season on AM 1410 WRMN with the voice of the Boomers, Tim Calderwood.