Boomers Walk-Off in Marathon for 300th Franchise Win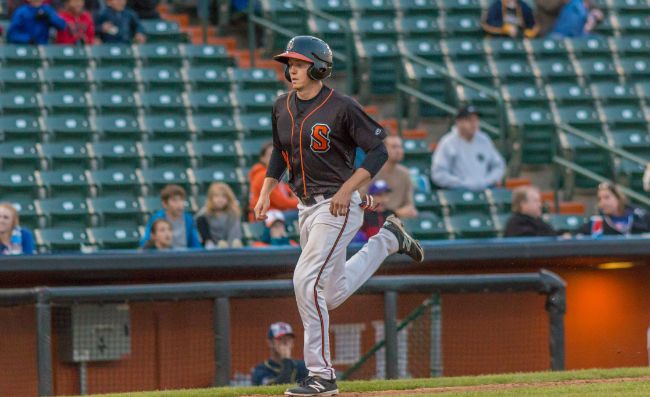 SCHAUMBURG, IL — The Schaumburg Boomers, presented by Wintrust Community Banks, opened a long homestand with a 5-4 marathon win over the Lake Erie Crushers to claim the 300th win in franchise history.
Josh Gardiner ended the game after nearly four and a half hours with an RBI fielder's choice to score Kyle Ruchim with the bases loaded in the bottom of the 13th. Schaumburg led 1-0 early on an RBI double from John Holland. Lake Erie opened a 3-1 lead with two fourth inning runs and one in the fifth before the Boomers evened the game in the bottom of the frame. The first run scored on an error and the second came around on a single from Holland.
The bullpen for both teams barreled down. Schaumburg managed just one hit from the seventh inning onward while Lake Erie picked up just two from the fifth inning forward. Lake Erie grabbed a brief 4-3 lead in the 12th, but a Nick Oddo single on the first pitch tied the game in the bottom of the inning.
Manager Jamie Bennett collected his 300th win, all with the Boomers. Bennett is 300-246 in his sixth season as the manager. Kit Fowler struck out six in his first professional start, allowing just one earned run. Derek DeYoung threw three innings, Kyle Westwood and Garrett Kelly one each with Jake Joyce tossing two and Joe Hauser picking up the win in relief. Joyce stranded the bases loaded in the 11th by striking out the side. Schaumburg matched a single game franchise record with 16 strikeouts by the pitching staff.
The Boomers (45-21), who continue to lead the East Division with the best record in the league, have won four in a row. The seven-game homestand continues on Wednesday night at 6:30 p.m. with LHP Lars Liguori (5-3, 4.04) starting. Make the Boomers part of your plans this season by calling (847) 461-FOWL (3695). Hear all of the game action this season on AM 1410 WRMN with the voice of the Boomers, Tim Calderwood.