Boomers Sweep Doubleheader from Joliet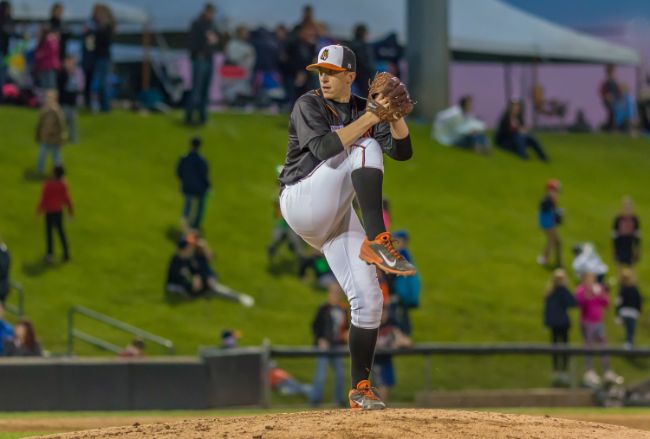 SCHAUMBURG, IL —The Schaumburg Boomers, presented by Wintrust Community Banks, did not allow an earned run in sweeping a doubleheader from the Joliet Slammers by finals of 2-0 and 2-1.
Schaumburg grabbed a 1-0 lead in the first of the opener on back-to-back two-out doubles from David Harris and John Holland. The single tally was more than enough for Kagen Hopkins, who threw 6.1 shutout innings to improve to 8-3 on the year. Opie Brodbeck padded the lead with an RBI in the sixth. Garrett Kelly retired the final two batters to save his third game of the season. The contest was a makeup from a rainout at Joliet on June 29.
The Boomers opened a 1-0 lead in the third inning of the second game when Zack Weigel drove home a run with a fielder's choice. Joliet tied the game with an unearned run in the top of the sixth. Kyle Ruchim notched a bloop triple to kick off the bottom of the sixth and scored on a double from Weigel. Evan Boyd, activated from the suspended list before the game, threw just two pitches in his 2017 debut to earn the victory. Jake Joyce struck out the side for his 10th save. Joe Hauser did not allow an earned run in 5.2 innings during his first professional start.
The Boomers (48-22), are 26 games over the .500 mark for just the second time in team history. The team leads the East Division and owns the best record in the league. The weekend series with Joliet continues on Saturday night at 6:00 p.m. with RHP Conrad Wozniak (2-1, 3.53) on the hill as BirdZerk makes an appearance on a fireworks night that will feature a postgame marshmallow fight. Make the Boomers part of your plans this season by calling (847) 461-FOWL (3695). Hear all of the game action this season on AM 1410 WRMN with the voice of the Boomers, Tim Calderwood.