Boomers Power Past Washington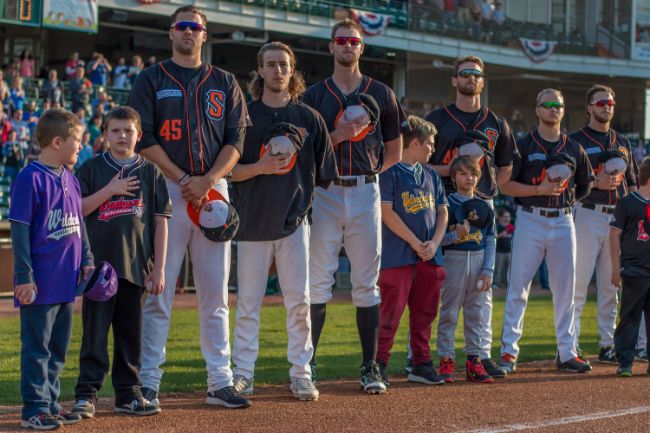 SCHAUMBURG, IL —The Schaumburg Boomers, presented by Wintrust Community Banks, powered past the visiting Washington Wild Things 8-2 on Thursday night in the finale of a three-game series.
Schaumburg led for the first time in the series by scoring four runs in the last of the third, taking advantage of an error on a run-scoring fielder's choice from David Harris to clear the bases. Josh Gardiner added an RBI fielder's choice in the inning as well. The runs were enough for Kagen Hopkins, who tallied his ninth win of the season by spinning a quality start. The Boomers extended the lead with a two-run single from Tanner Pinkston in the seventh and a two-run homer from Sean Godfrey in the eighth. Godfrey has homered in back-to-back contests.
Hopkins worked six innings and struck out six while allowing just one run. The third-year Boomer owns a 4-0 record following a loss by the team. Hopkins is tied for third in the league in wins. Evan Boyd and Kyle Westwood finished out the decision. Schaumburg tallied 12 hits. Pinkston, Harris and Gardiner all tallied a pair.
The Boomers (56-25) continue to own the best record in the league and hold a commanding lead in the East Division while closing in on a playoff berth with a magic number of four for the division and a playoff berth pending results elsewhere. The homestand continues in Friday night at 6:30 p.m. against the Joliet Slammers with postgame fireworks and a green Boomers hat giveaway courtesy of Salvi, Schostok and Pritchard P.C. Make the Boomers part of your plans this season by calling (847) 461-FOWL (3695). Hear all of the game action this season on AM 1410 WRMN with the voice of the Boomers, Tim Calderwood.