Boomers Homer to Third Frontier League Title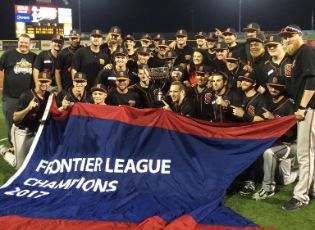 FLORENCE, KY – The Schaumburg Boomers, presented by Wintrust Community Banks, hit four homers on the way to a 6-2 win over the Florence Freedom to become the first team in Frontier League history to win three championships.
Schaumburg set the tone early. Kyle Ruchim led off the game with a double but did not move. Sean Godfrey put the Boomers ahead early for the first time in the series with a solo homer over the wall in left with one away in the top of the second. Schaumburg had fallen behind in each of the first three games.
Florence evened the game in the bottom of the third on a two-out RBI single from Taylor Oldham following a pair of walks. The Boomers quickly established control in the top of the fourth. Rock Shoulders led off by pouncing on an 0-2 pitch, roping his second homer of the playoffs over the wall in right to hand Schaumburg a 2-1 advantage. Godfrey followed with his second homer of the game to push the margin to 3-1. Ruchim doubled home James Keller later in the inning to hand Schaumburg a 4-1 lead.
Two more would come across in the top of the sixth. Jack Parenty, who did not homer in 232 regular season at bats, blasted an offering over the right field wall, making the lead 5-1 with the fourth longball of the night. Parenty was making his first start of the series and finished with a pair of hits. Zack Weigel added a sacrifice fly to plate Ruchim and make it 6-1. Florence notched a two-out run in the bottom of the inning to draw within 6-2.
Starter Kit Fowler worked three innings but did not factor in the decision, allowing a run on two hits with three walks and two strikeouts. Michael Wood, Fowler's college teammate at Tennessee Tech, collected the win by working 4.2 innings of relief in his first career playoff appearance. Wood allowed a run on four hits while accumulating four strikeouts. Kyle Westwood recorded a strikeout of Keivan Berges to leave the bases loaded in the eighth. Westwood pitched in three games of the series and struck out seven in 4.1 innings to earn the MVP award. Jake Joyce closed out the win.
Schaumburg finished with nine hits in the game. Ruchim, John Holland, Godfrey and Parenty all notched a pair of hits. The Boomers had connected on just two homers in the series and four in the playoffs prior to the clincher.
The Boomers (66-30, 6-2) have won three titles in just six years as a member of the league. The previous championships came in back-to-back years in 2013 and 2014. Prior to this season, the 25th in Frontier League history, six teams had won a pair of titles.