Boomers Continue Efforts to Meet Needs of Autistic Families and Fans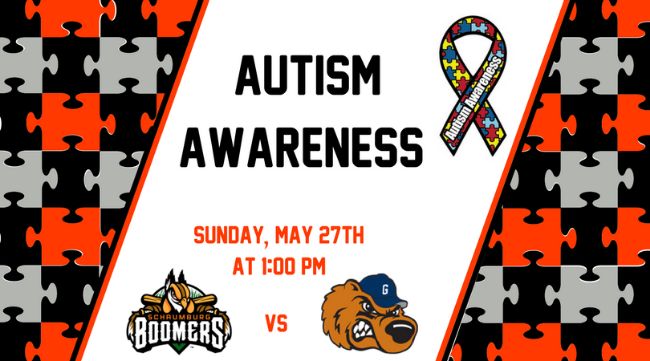 As Autism Awareness Month comes to a close, the Schaumburg Boomers today announced its commitment in meeting the needs of autistic families and fans. The Frontier League championship team will once again partner with Northbrook-based Autism Home Support Services (AHSS) for the 2018 baseball season to support families and fans with autism. The partnership will include the continuation of "quiet rooms" - available throughout the 2018 season - where parents can take children or other family members with sensory issues during the game. The Boomers also joined the KultureCity Sensory Inclusive Movement and will host a special Autism Awareness baseball game on May 27th at 1:00 p.m.
"Fun family experiences like baseball games can often overwhelm children with autism," said Erica Pozzie, Chief Clinical Officer of Autism Home Support Services. "Our partnership with the Schaumburg Boomers will help the public become better educated about autism spectrum disorder and it will give those with sensory issues an opportunity to enjoy a day at the ballpark."
The quiet rooms will provide a calm, soothing place for anyone who could use a break from the volume of America's favorite pastime. Boomers front office staff will be onsite to help interested families and fans access the quiet rooms at any point during the games, all season long.
The Schaumburg Boomers also joined the KultureCity Sensory movement which includes online training for all front-line Boomers staff by board-certified physicians as well as yearly re-certification courses. The May 27 Autism Awareness Game will celebrate these efforts, as well as recognize the importance of sensory issues. The stadium's PA system will also be lowered for this game.
"We are honored to help raise awareness of autism because we know how difficult everyday activities can be for those dealing with ASD," said Michael Larson, General Manager of Schaumburg Boomers.
Season ticket packages and group and hospitality offerings for the 2018 season can be reserved by calling (847) 461-3695 or emailing [email protected]. Single-game tickets are now available online at http://www.BoomersBaseball.com. Opening week at the Schaumburg Boomers stadium is May 15th and will include a replica ring giveaway, three firework shows, Harry Potter Night, and more!
About Autism Home Support Services
Headquartered in Northbrook, Autism Home Support Services is the Midwest's largest provider of in-home ABA therapy and has served more than 1,300 families in metro Chicago, Ann Arbor/Northville and Denver. AHSS also offers center-based ABA therapy at facilities in multiple locations. The company is expanding its center- and home-based therapy services across the United States. See autismhomesupport.com for more information.