Boomers Tally Wild Walkoff Win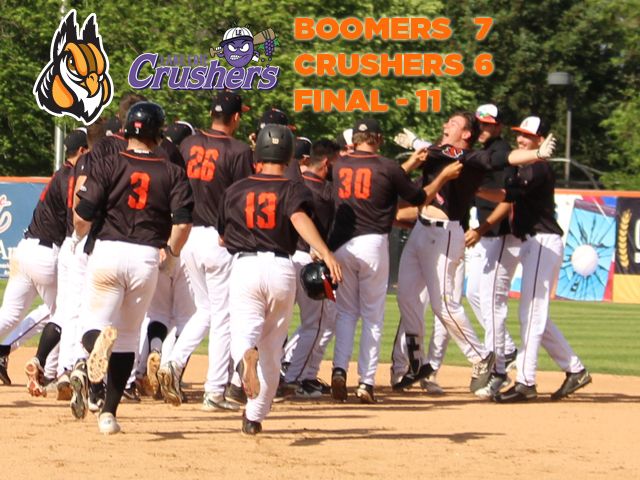 SCHAUMBURG, IL — The defending Frontier League champion Schaumburg Boomers, presented by Wintrust Community Banks, walked off with a wild 7-6 11-inning win over the Lake Erie Crushers on Sunday afternoon.
Down 1-0, the Boomers scored three times in the bottom of the fourth to take the lead. With runners at second and third, Nick Oddo struck out swinging but a wild pitch allowed the tying run to score while a throwing error enabled Oddo to reach. Nick DiBenedetto followed with a sacrifice fly to give Schaumburg the lead, scoring Kewby Meyer. Dylan Jones added an RBI single with two outs to make the score 3-1. Down to the final strike in the top of the ninth, Conner Simonetti hit a game-tying two-run homer to send the game to extras.
Reaching the 11th inning and the institution of the international tiebreaker, Lake Erie scored three runs to grab a 6-3 lead. The Boomers responded in the bottom of the inning, winning the game with a four-spot. With one out and runners at the corners, Jones opened the outburst with his third hit, scoring James Keller. Sean Godfrey followed with a double to plate Jack Parenty draw the Boomers within 6-5. Following an intentional walk and facing a new pitcher, Ty Moore stroked a single to left, scoring two and sending the Boomers to a third walkoff win in extras this year. The four runs in the 11th marked the most in an inning this season.
Payton Lobdell was activated from injured reserve before the game and threw 5.1 innings, leaving with the lead. Six relievers appeared in the contest. Dylan Stutsman earned his first professional victory by working the 10th and 11th. Schaumburg (8-12) tallied 14 hits, a third consecutive double-digit showing. Jones, Moore and Meyer all finished with three while Parenty added a pair.
The homestand will continue on Tuesday following a day off. RHP Steven Ridings (1-2, 3.18) takes the ball as the Windy City ThunderBolts visit at 6:30 p.m. on Superhero Night featuring $1 hot dogs. Make the Boomers part of your plans this summer by calling (847) 461-3695.