Boomers Pitch Past Windy City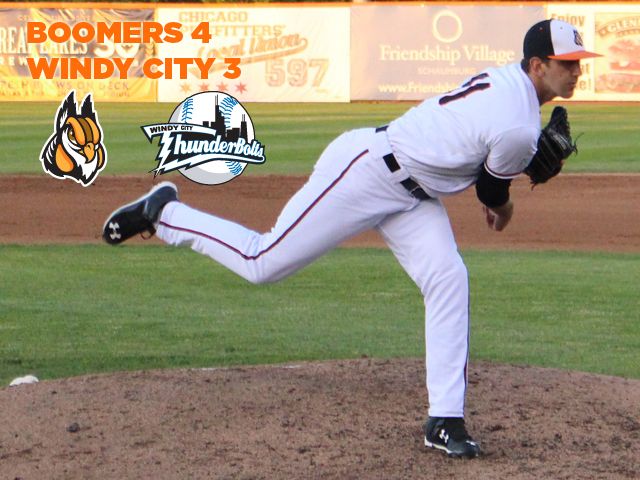 SCHAUMBURG, IL — The defending Frontier League champion Schaumburg Boomers, presented by Wintrust Community Banks, allowed only two hits in pitching past the Windy City ThunderBolts on Tuesday night by a 4-3 score during the opener of a mid-week series.
Windy City loaded the bases in the top of the first with no outs and without a hit against Schaumburg starter Steven Ridings, but managed to score just one run. Schaumburg came back to tie the game in the bottom of the second, Jack Parenty singled home Kenny Towns with two strikes and two outs to even the game. The Boomers plated a pair in the third to gain the advantage. Towns and Zack Weigel recorded RBIs. Weigel was activated before the game. Weigel made the lead 4-1 with another RBI in the fifth on a fielder's choice, scoring Ty Moore. Windy City battled within 4-3 behind a pair of unearned runs in the eighth, but Jake Joyce stranded the tying run at second in the ninth to record his third save.
Ridings worked seven innings to improve his record to 2-2, walking four and striking out four while allowing just one run on one hit. The offense rapped out 11 hits in a fourth consecutive game with double-digit hits. Towns finished with three hits while Weigel and Moore each added a pair. Sean Godfrey reached base twice, running his on-base streak to 11 games.
The series continues Wednesday night with Pinot in the Park as wine takes center stage in the 6:30 p.m. affair. RHP Joe Hauser (2-0, 2.16) takes the ball for the Boomers against LHP Jaramy Jacobs (0-2, 6.40). Make the Boomers part of your plans this summer by calling (847) 461-3695.