Boomers Slowed In Series Finale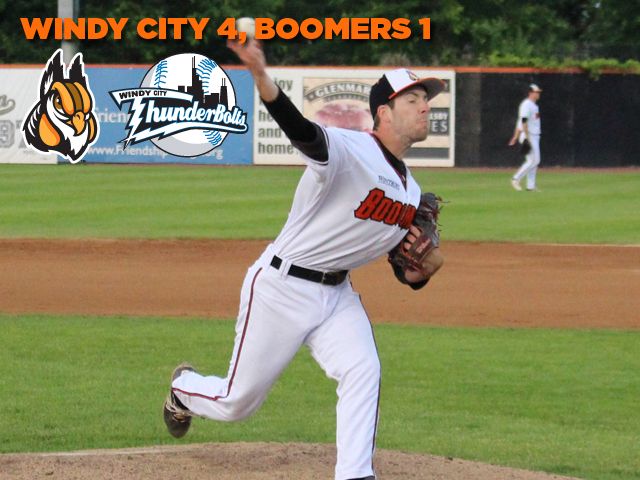 SCHAUMBURG, IL — The defending Frontier League champion Schaumburg Boomers, presented by Wintrust Community Banks, fell on the short end of a 4-1 score in the series finale with the Windy City ThunderBolts on Thursday night.
Both teams scored in the first inning with Windy City manufacturing a run without a hit against Schaumburg starter Sam Myers, who was signed before the game. Sean Godfrey blooped a two-out double in the bottom of the inning and scored on a Collin Ferguson single. That would be the only run of the night for Schaumburg as Windy City starter Jake Welch allowed just one hit from the second through the fifth. Will Krug scored all four runs for Windy City as baserunning set the tone. The visitors stole six in the decision. Krug swiped three bases and came around in the third, fifth and seventh.
Myers worked 4.2 innings in his debut, suffering the loss. Dylan Stutsman logged 2.1 innings while James Mulry and Ivan Vieitez each spun scoreless frames. The bats saw a string of five straight games with double-digit hits come to a close, finishing with seven. Ferguson logged a pair of hits in the loss.
The Boomers hit the road this weekend for three with the Lake Erie Crushers in Ohio beginning on Friday night at 6:05 p.m. LHP Gunnar Kines (0-0, 4.22) is scheduled to start the series opener between the two divisional foes. Make the Boomers part of your plans this summer by calling (847) 461-3695.