Boomers Muscle Past Lake Erie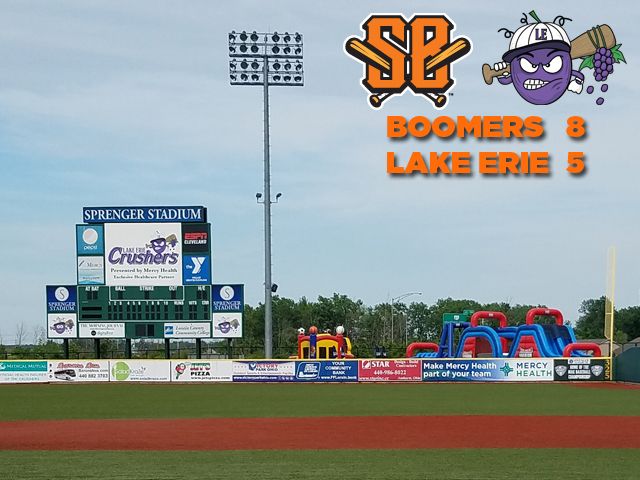 SCHAUMBURG, IL — The defending Frontier League champion Schaumburg Boomers, presented by Wintrust Community Banks, jumped on the Lake Erie Crushers early, streaking to an 8-5 victory on the road in the opener of a weekend series in Ohio on Friday night.
Schaumburg struck for three runs in the top of the second. Zack Weigel opened with an infield hit and Kenny Towns followed by being hit by a pitch. Schaumburg was hit four times in the contest. With one out, Nick Oddo doubled home the first run. Jack Parenty notched a bases loaded single to score Towns and Oddo crossed the plate on a wild pitch to account for the scoring in the frame. Schaumburg extended the margin to 5-0 with two more in the third. Towns doubled home a run and scored on a double steal.
Lake Erie scored twice in the bottom of the third, but Collin Ferguson and Weigel drove home runs in the fourth to stretch the margin to 7-2. The hosts pulled within 7-5 before a Sean Godfrey RBI double in the eighth accounted for the final.
Gunnar Kines tossed five innings to earn his first win of the season. Jake Joyce spun a perfect ninth for his fourth save. The Boomers rapped out 13 hits with eight members of the lineup picking up at least one. Godfrey tallied three in extending his on-base streak to 14 games and his hit streak to seven. Towns owns an eight-game hitting streak and has reached base in 12 straight along with Dylan Jones. All nine members of the order reached base at least once.
The Boomers (11-13) continue the series tomorrow night at 5:05 p.m. Central Time. RHP Payton Lobdell (0-2, 3.00) makes his second consecutive start against his former team while Lake Erie counters with LHP Ben Smith (0-0, 5.79). Schaumburg returns home on Tuesday to begin a three-game series with Evansville on Educators Appreciation Night featuring Dennis Haskins (Mr. Belding) from Saved by the Bell. Make the Boomers part of your plans this summer by calling (847) 461-3695.