Boomers Rally to Dispatch Lake Erie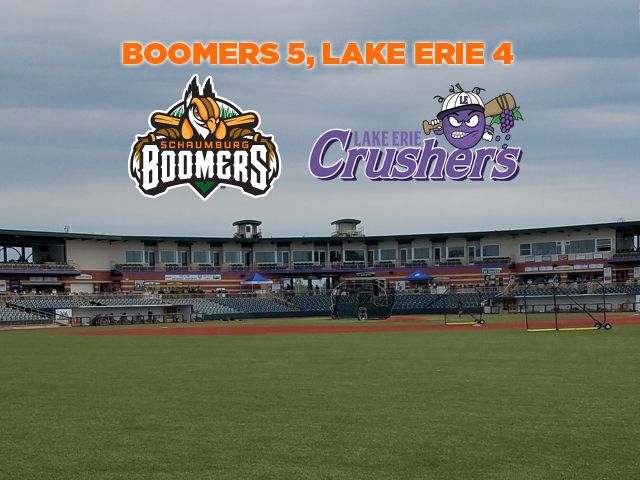 AVON, OH — The defending Frontier League champion Schaumburg Boomers, presented by Wintrust Community Banks, fell behind 3-0 early, but rallied to notch a 5-4 decision in Ohio and claim a second consecutive series victory.
Lake Erie jumped in front 3-0 by scoring three times with two outs in the bottom of the second against Schaumburg starter Payton Lobdell. The Boomers quickly pecked at the deficit, tallying a pair of runs in the top of the third on a two-run single from Ty Moore with the bases loaded. James Keller scored on a wild pitch in the fourth to tie the game and Collin Ferguson put the Boomers in front with an RBI groundout. The hosts tied the game in the sixth with an unearned run before Zack Weigel accounted for the difference with a bases loaded single in the seventh.
Lobdell worked a season high six innings to gather his first win, allowing just two earned runs. The bullpen combination of Darrell Thompson and Jake Joyce retired the final nine batters of the game with Joyce earning his fifth save and second in as many nights. Schaumburg finished with 11 hits, an eighth double-digit performance in the last 10 affairs. Moore, Jack Parenty, Kenny Towns and Weigel all tallied two each on another night where the entire starting lineup reached base at least once. Towns owns a nine-game hitting streak. Sean Godfrey reached base four times and has been aboard in 15 consecutive games. Schaumburg overcame two errors and 13 runners left on base.
The Boomers aim for a series sweep on Sunday afternoon at 1:05 p.m. Central. RHP Steven Ridings (2-2, 2.73) is slated to start for Schaumburg with Lake Erie sending RHP Mason Klotz (2-0, 2.00). Schaumburg returns home on Tuesday to begin a three-game series with Evansville on Educators Appreciation Night featuring Dennis Haskins (Mr. Belding) from Saved by the Bell. Make the Boomers part of your plans this summer by calling (847) 461-3695.