Boomers Hold Off Lake Erie to Sweep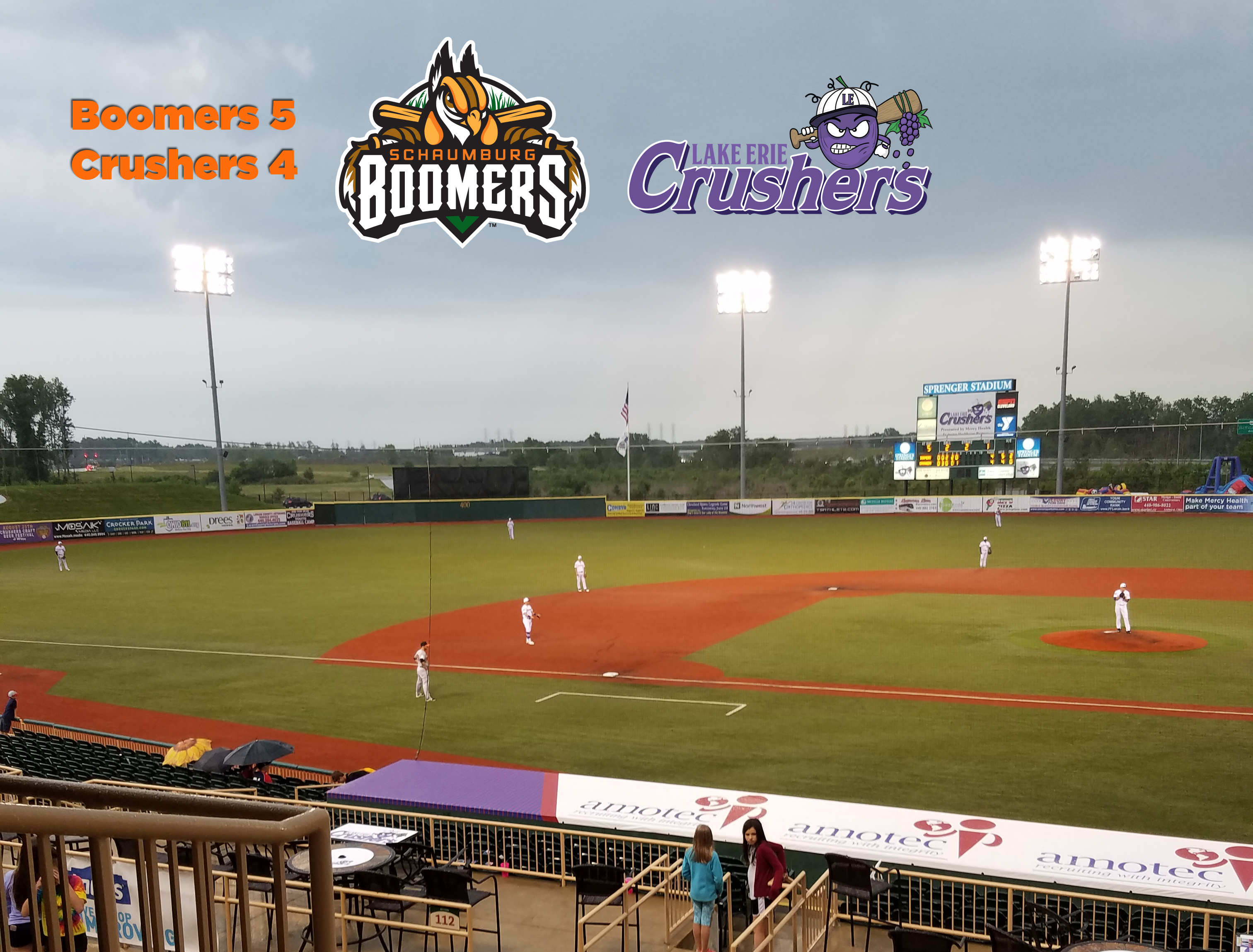 AVON, OH — The defending Frontier League champion Schaumburg Boomers, presented by Wintrust Community Banks, reached the .500 mark for the first time this season by finishing off a road sweep of the Lake Erie Crushers with a 5-4 win on Sunday afternoon.
Schaumburg jumped in front by plating five runs in the top of the third inning, the most in a frame this season. James Keller and Nick DiBenedetto opened the inning by drawing back-to-back walks and moved up on a sacrifice from Jack Parenty. Ty Moore opened the scoring by reaching on an error as Keller came across. Collin Ferguson reached on an error two batters later to move the edge to 2-0 when DiBenedetto scored. The onslaught continued as the Boomers chased Lake Erie starter Mason Klotz. Zack Weigel logged an RBI single, Kenny Towns lifted a sacrifice fly and Dylan Jones finished the spurt with an RBI single.
Lake Erie took advantage of a pair of errors from the Boomers to battle within 5-4. The Crushers tallied three runs in the fifth and scored once in the sixth while loading the bases with no outs. Ivan Vieitez prevented Lake Erie from tying the game by inducing a double play. The game was slowed by a rain delay of just under an hour in the bottom of the eighth. Lake Erie placed the tying run on base in the final four innings but could not even the score. The Crushers stranded 13 on base in the contest.
Starter Steven Ridings threw five innings and allowed just one earned run, walking four and striking out five. Ridings improved to 3-2 on the year. Chris Hall struck out three in 1.2 innings of work to nail down his first save. Schaumburg mustered just six hits in the win, with two coming from Weigel. Towns saw his hitting and on base streak end, but Sean Godfrey now owns a nine-game hitting streak while reaching in 16 consecutive affairs.
The Boomers (13-13) return home to face the Evansville Otters on Tuesday night at 6:30 p.m. on Educators Appreciation Night featuring Dennis Haskins (Mr. Belding) from Saved by the Bell. Make the Boomers part of your plans this summer by calling (847) 461-3695.