Boomers Slash Past Otters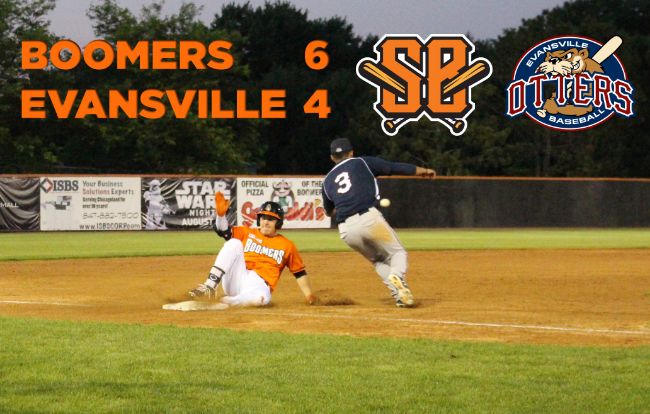 SCHAUMBURG, IL — The defending Frontier League champion Schaumburg Boomers, presented by Wintrust Community Banks, countered every rally from the Evansville Otters to collect a 6-4 victory on Wednesday night.
Sean Godfrey opened the scoring with a solo homer in the bottom of the third, his third of the season. Evansville instantly opened a 2-1 lead by plating two runs in the top of the fourth against starter Sam Myers. The Boomers scored three times in the bottom of the inning to again move ahead. Ty Moore led off with a triple and scored on a Clint Hardy single. Hardy scored on a wild pitch and Jack Parenty posted a two-out, two-strike RBI single as well.
Evansville again answered, striking for two unearned runs in the top of the fifth to even the score. James Keller executed a perfect suicide squeeze in the sixth to plate Moore with the deciding run. Keller added an additional RBI single in the eighth to account for the final.
Myers worked 4.1 innings in a no-decision, striking out five. Darrell Thompson picked up the win, working 2.2 innings and recording four strikeouts. Ivan Vieitez twirled the eighth and Jake Joyce the ninth for his sixth save. The pitching staff struck out 12 and overcame 13 Evansville hits, all singles. Moore matched the single game record by tripling twice as the Boomers finished with nine hits. Hardy and Keller also notched up two each.
The rubber game of the series comes on Thursday night at 6:30 p.m. with Military Appreciation Night featuring $2 tickets for active and former military. It is also a Thirsty Thursday. Make the Boomers part of your plans this summer by calling (847) 461-3695.