Towns Walk-Off Blast Sends Boomers to Series Win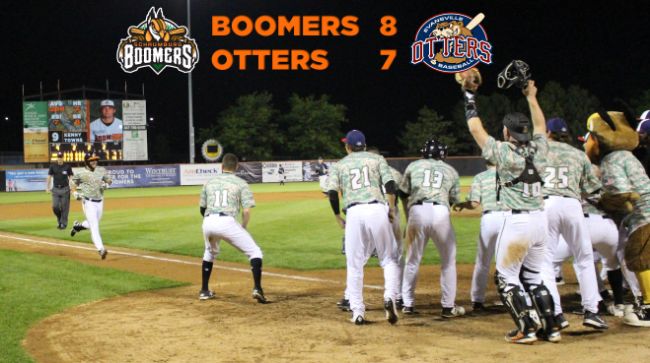 SCHAUMBURG, IL — The defending Frontier League champion Schaumburg Boomers, presented by Wintrust Community Banks, rallied from down five runs to win a series and cross the .500 mark for the first time on the season when Kenny Towns drilled a walk-off homer in the bottom of the ninth.
Towns fell behind in the count 0-2 to Evansville closer Mitch Aker before battling back to even things and then tucking a 2-2 pitch inside the left field pole for a walk-off homer, just the third in team history. Evansville tallied three first-inning runs and added four in the second to open a 7-2 lead in the contest. The Boomers battled back with clutch two-out hitting throughout the night. Collin Ferguson drove home a pair with a two-out single in the second. Jack Parenty tripled home a tandem with two outs in the third and James Keller tied the game with a two-out pinch-hit RBI double in the seventh. All eight runs scored with two outs as Towns also knocked home two with a first-inning two-out single.
Starter Gunnar Kines allowed seven runs in two innings but the bullpen picked him up, throwing seven scoreless. James Mulry worked a season high 2.2 scoreless, Mitch Schulewitz logged 1.1 blank innings, Chris Hall two and Jake Joyce another inning. Joyce earned the win, striking out two and leaving the go-ahead run at second in the ninth. The offense finished with 11 hits. Towns tallied three with three RBIs while Ferguson added three hits as well. Josh Gardiner collected a pair.
The Boomers (15-14) begins a six-game roadtrip on Friday night in Northern Kentucky against the Florence Freedom at 6:05 p.m. RHP Payton Lobdell (1-2, 3.00) takes the ball in the opener. Schaumburg does not return home until June 22. Make the Boomers part of your plans this summer by calling (847) 461-3695.