Florence Scores Walk-Off Win in Opener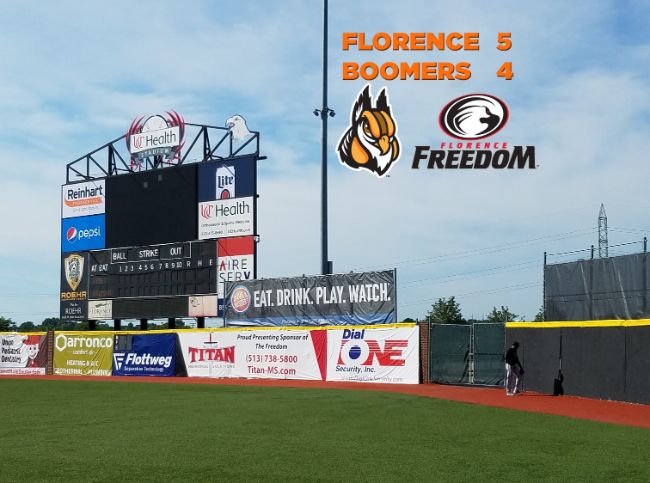 FLORENCE, KY — The defending Frontier League champion Schaumburg Boomers, presented by Wintrust Community Banks, dropped a nail-biting series opener with the team they bested to win the 2017 title, the Florence Freedom, falling 5-4 on the road.
Jack Parenty and Ty Moore singled to open the third inning and both moved up on a balk. Sean Godfrey opened the scoring with an RBI groundout. Collin Ferguson followed with a two-out RBI single, making the score 2-0. Florence scored a pair of unearned runs in the bottom of the inning to tie the game on only one hit and tacked on two more in the sixth to open a brief 4-2 lead.
The Boomers quickly evened the score in the seventh when Parenty reached on an error and Moore followed with a double. Ferguson came through again with two outs, evening the game with a single through the right side. Florence scored the winner in the bottom of the ninth with one away when pinch hitter Andrew Mercurio singled up the middle with the bases loaded.
Payton Lobdell worked 5.2 innings and allowed two earned runs in a no-decision. Mitch Schulewitz threw 2.1 innings of scoreless baseball and struck out four. Dylan Stutsman suffered the loss, allowing three hits in the ninth. The offense banged out 10 hits led by three apiece from Parenty and Moore. Ferguson finished with two and drove home three.
The Boomers (15-15) continue the series on Saturday night at 5:05 p.m. RHP Steve Ridings (3-2, 2.60) starts for the Boomers against RHP Zach Kirby (0-2, 4.58). Schaumburg does not return home until June 22. Make the Boomers part of your plans this summer by calling (847) 461-3695.