Boomers Hold Off Florence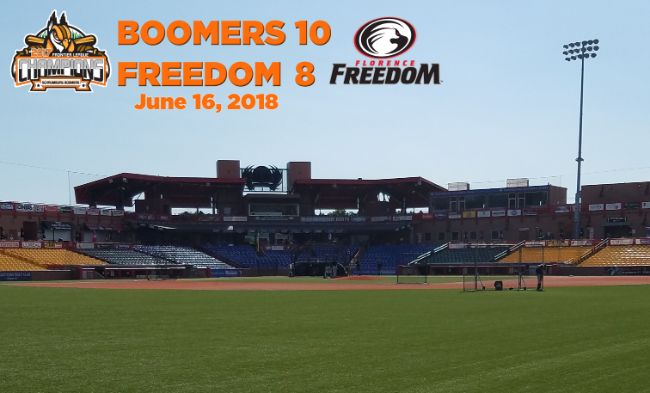 FLORENCE, KY — The defending Frontier League champion Schaumburg Boomers, presented by Wintrust Community Banks, scored a season high 10 runs in holding off the Florence Freedom to tally a 10-8 win in the middle game of a series on the road Saturday night.
Clint Hardy opened the scoring by coaxing a bases loaded walk in the top of the second. Nick Oddo followed with a sacrifice fly. Florence instantly tied the game with two runs in the bottom of the inning against Schaumburg starter Steven Ridings. Trailing 3-2, Oddo put the Boomers ahead again with a two-out, two-run double in the fourth. Florence tied the game once more in the bottom of the inning.
Sean Godfrey bounced into a fielder's choice that produced an error and two runs in the fifth to put Schaumburg ahead for good. Jack Parenty tacked on an RBI double in the sixth with Ty Moore doubling home three in the eighth. Florence scored twice and loaded the bases in the ninth but Darrell Thompson closed the game in place of Jake Joyce by inducing a double-play on a liner to seal the win.
Ridings won his third consecutive start, working into the sixth. Ivan Vieitez threw three scoreless innings to bridge the gap. The Boomers finished with 10 hits in the victory. Zack Weigel tallied three with Parenty and Kenny Towns each posting a pair. Hardy scored three times.
The series concludes with a Father's Day rubber match at 5:05 p.m. The Boomers (16-15) will send RHP Joe Hauser (3-1, 2.31) against RHP Steve Hagen (3-2, 3.53). Schaumburg returns home from the trip on June 22. Make the Boomers part of your plans this summer by calling (847) 461-3695.