Boomers Edged in Pitcher's Duel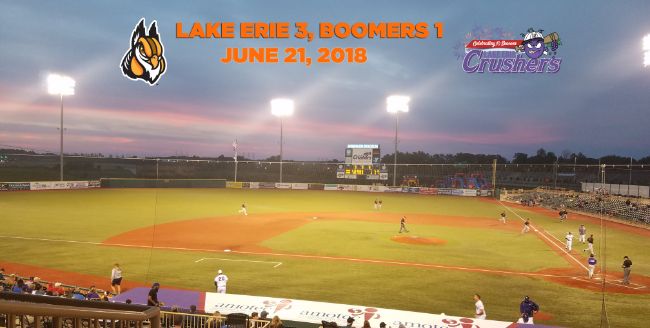 AVON, OH — The defending Frontier League champion Schaumburg Boomers, presented by Wintrust Community Banks, dropped the finale of a six-game roadtrip to the Lake Erie Crushers despite a strong pitching performance from Payton Lobdell by a 3-1 score on Thursday night.
The first three batters of the game reached base for Lake Erie against Lobdell, but just one run scored as the righty retired the next nine to come to the plate. Schaumburg evened the game in the top of the second when Zack Weigel and Dylan Jones posted back-to-back singles. James Keller produced the only run of the game with a sacrifice fly. Cody Lenahan opened the fourth with a bloop single and scored the go-ahead run despite Lobdell retiring the next 11 batters. The Crushers added an insurance tally in the eighth.
Lobdell allowed just two runs on only three hits to his former team in seven innings with two walks and two strikeouts. Lake Erie managed just five hits in the game. Schaumburg had runners aboard in eight innings but stranded 11, struggling to solve Donald Murray on the hill. The Boomers, who put the tying runs on base with two outs in the ninth, notched eight hits. Weigel and Jones both picked up a pair. Weigel was also hit by a pitch and has reached base in 13 consecutive games. Jack Parenty extended his hitting streak to eight games. Schaumburg finished 3-3 on the trip.
The Boomers (18-17) return home Friday night at 6:30 p.m. to face the team with the best record in the league, the Washington Wild Things. Schaumburg will send RHP Joe Hauser (3-2, 2.79) to the mound against RHP Trevor Bradley (2-0, 2.84). The contest will feature postgame fireworks as part of Lego Night. Make the Boomers part of your plans this summer by calling (847) 461-3695.