Boomers Unable To Catch Washington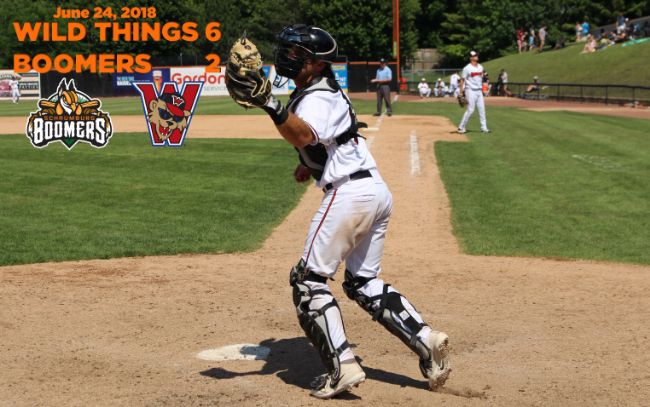 SCHAUMBURG, IL — The defending Frontier League champion Schaumburg Boomers, presented by Wintrust Community Banks, dropped the finale of a three-game weekend set with the Washington Wild Things at home by a 6-2 score.
Washington jumped on newly signed starter Will Stillman for four runs in the top of the second inning, tallying four hits in rapid fire fashion. Schaumburg labored against Washington hurler Chase Cunningham, struggling to mount much offense. Dylan Jones opened the bottom of the third with a single and Nick Oddo followed with a walk. Josh Gardiner doubled home a run and Jack Parenty logged an RBI groundout, but the Boomers managed only three baserunners the rest of the way. Washington put the game away with a pair of runs in the ninth.
Cunningham combined with two relievers to hold Schaumburg to a season low three hits. Parenty saw a 10-game hitting streak end in the contest but Zack Weigel reached base to extend his on-base string to 16 games. Jones was on base twice after being hit by a pitch for the eighth time this year in the seventh. Stillman, a former sixth round pick of the Padres, worked 2.2 innings to take the loss in his debut, walking four and striking out two. Dylan Stutsman logged 4.1 shutout innings of relief, striking out three. Mitch Schulewitz struck out the side in the eighth.
The Boomers (20-18) will take Monday off before continuing the homestand on Tuesday night against Joliet at 6:30 p.m. Tuesday is $1 hot dog night and Friendship Night, presented by Friendship Village. Make the Boomers part of your plans this summer by calling (847) 461-3695.