Boomers Beat Weather And Slammers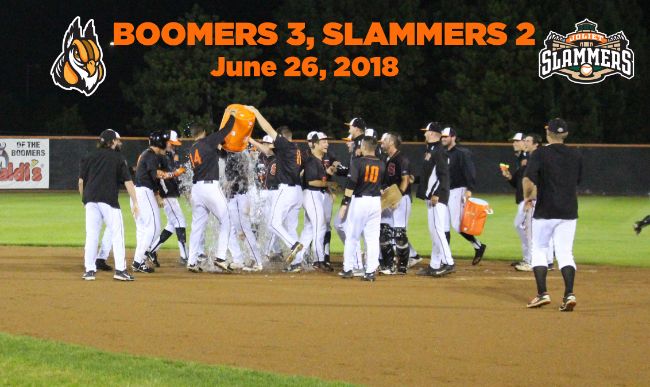 SCHAUMBURG, IL — The defending Frontier League champion Schaumburg Boomers, presented by Wintrust Community Banks, waited through an early rain delay of nearly two hours and plated two runs in the bottom of the ninth to walk-off with a 3-2 win over the Joliet Slammers on Tuesday night.
Trailing 2-1 entering the bottom of the ninth, Zack Weigel led off with a single against Joliet closer Keegan Long. Weigel advanced to second and then to third on a pair of wild pitches before scoring the tying run on the third wild pitch of the inning. Jack Parenty handed Schaumburg a sixth walk-off win of the season by singling through a drawn in infield to knock in Clint Hardy. The Boomers opened the scoring in the second when Weigel crossed on a groundout from James Keller but Joliet netted two unearned runs in the fifth to grab a 2-1 lead.
Payton Lobdell started for the Boomers and worked 5.1 innings without allowing an earned run. Mitch Schulewitz grabbed the win in relief. Schaumburg overcame a season high four errors. Weigel, Parenty and Ty Moore all tallied two hits in the game that was delayed by 1:58 just three batters into the evening.
The Boomers (21-18) will have a quick turnaround with an 11:00 a.m. contest against the Slammers om Day Camps Day. RHP Joe Hauser (3-2, 2.64) is slated to make the start. Make the Boomers part of your plans this summer by calling (847) 461-3695.