Joliet Swings Past Boomers In Middle Game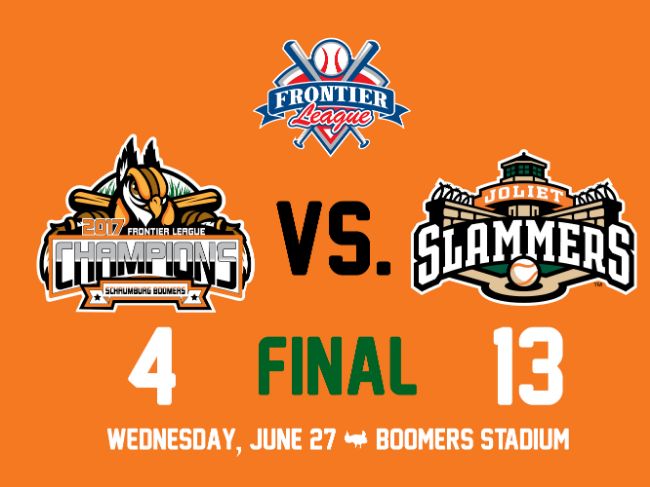 SCHAUMBURG, IL — The defending Frontier League champion Schaumburg Boomers, presented by Wintrust Community Banks, allowed 19 hits in a 13-4 loss to the Joliet Slammers on Wednesday morning.
Joliet opened a 6-0 lead behind two runs in the second and four in the third, connecting on a pair of two-run homers. The Boomers cut into the deficit by plating two runs in the bottom of the third on four consecutive two-out singles. Ty Moore and Collin Ferguson logged the final two hits to score Jack Parenty and Kenny Towns respectively. Joliet blew open the game by answering with six runs in the fourth, putting the contest out of reach.
Joe Hauser ended up throwing eight innings despite the early struggles. Hauser retired nine straight from the end of the fourth through the seventh but allowed the most runs and hits by a pitcher in franchise history. The 19 hits for Joliet match the second most allowed in a game in franchise history. Towns homered in the eighth and finished with three hits. Parenty tallied a pair of hits as well. Zack Weigel extended his on-base streak to 18 games with a single in his final at bat in the bottom of the ninth.
The Boomers (21-19) conclude the homestand with another day game on Thursday at 12:30 p.m. on Ferris Bueller's Day Off Business Day Game. The Boomers will be in special Abe Froman jerseys for the contest. Schaumburg has not announced a starter for the contest while Joliet will send RHP Shane Bryant (1-3, 4.15) in the rubber match. Make the Boomers part of your plans this summer by calling (847) 461-3695.