Boomers Draw 1,000,000th Fan In Nail-Biting Victory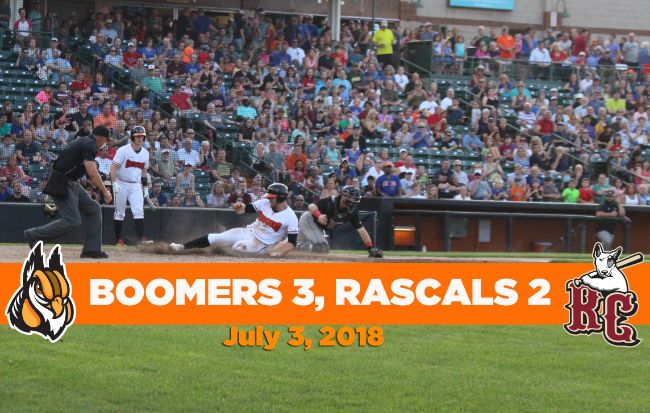 SCHAUMBURG, IL — The defending Frontier League champion Schaumburg Boomers, presented by Wintrust Community Banks, treated one of the largest crowds in franchise history to a 3-2 win over the River City Rascals to kick off Independence Day fun on Tuesday night. Among the crowd of 6,931 was the 1,000,000th fan in franchise history. The 2018 season marks the seventh in the existence of the organization.
River City scored a pair of runs in the top of the first against Schaumburg starter Joe Hauser to gain an early lead. Sean Godfrey coaxed a one-out walk in the bottom of the inning, swiped second and third before scoring on a throwing error. Schaumburg gained the upper hand with two runs in the fourth. Zack Weigel singled and scored on a double from Clint Hardy. Hardy moved to third on a wild pitch and scored the winning run on another throwing error.
River City consistently threatened, placing the tying run at third base in four straight innings, including three in a row with less than two outs. The Schaumburg pitching staff kept the Rascals at bay, holding on for the 14th comeback victory of the season. River City stranded 12 on the bases including seven in scoring position. Jake Joyce stranded the tying run in the ninth to save his ninth of the year. Darrell Thompson and Ivan Vieitez worked out of jams by virtue of double plays. James Mulry tallied two strikeouts to preserve the advantage in the eighth.
Hauser earned the win, working 5.1 innings to improve to 4-3 on the year. The Texan allowed just one earned run. River City starter Hector Hernandez threw a complete game and struck out nine but suffered his first defeat of the year despite allowing only one earned run. The Boomers managed only five hits, two of which came from Weigel. Godfrey drew a pair of walks.
The Boomers (24-21) continue the celebration on Independence Day Wednesday night with more fireworks at 6:30 p.m. LHP Gunnar Kines (3-1, 5.46) takes the ball for Schaumburg opposite RHP Josh Kimborowicz (2-2, 3.23). Make the Boomers part of your plans this summer by calling (847) 461-3695.